In conversation with first author, Narender Reddy
Designing BH3-mimetic peptide inhibitors for the viral Bcl-2 homologs A179L and BHRF1: Importance of long-range electrostatic interactions.
Reddy CN, Sankararamakrishnan R.
ACS Omega. 2021 Oct 4;6(41):26976-26989.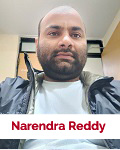 How would you describe the major breakthrough of this study?
Narender Reddy: In this study, we succeeded in delivering two therapeutic agents [an antioxidant, pyrrolidine dithiocarbamate (PDTC) and an anti-VEGF agent, triamcinolone acetonide (TA)] simultaneously to anterior (lens) and posterior (retina) ocular tissues using polymeric core-shell nanoparticles (NPs). Further, controlled release of entrapped drugs (burst followed by sustained release of PDTC, whereas, a slow and sustained release of TA) was achieved using the fabricated delivery system. As a consequence, the developed drug delivery/therapeutic strategy minimized diabetes associated cataract and retinopathy in diabetic retinopathy rats.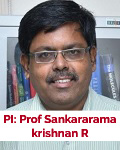 What was the most challenging part of the study?
Narender Reddy: There are multiple experiments that were challenging, which include fabrication of NPs, generation of diabetic retinopathy rat model and characterization of pathological markers in ocular tissues. However, the most challenging part that I felt was the fabrication of nanoparticles and optimization of drug loading in nanoparticles so as to achieve sequential drug release.
How did the collaboration with NIN facilitate the study?
Narender Reddy: Our collaboration with NIN Hyderabad accelerated progress of the in vivo study. NIN offered state-of-the-art facilities for animal studies i.e., housing of animals, generation of diabetic retinopathy animal model, characterization of oxidative stress and neovascularization markers in lens and retinal tissues.