Development of a Self-Adjuvanting, Cross-Protective, Stable Intranasal Recombinant Vaccine for Shigellosis.
Baruah N, Ahamad N, Maiti S, Howlader DR, Bhaumik U, Patil VV, Chakrabarti MK, Koley H, Katti DS.
ACS Infect Dis. 2021 Dec 10;7(12):3182-3196.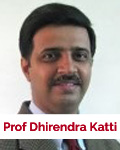 Many infectious diseases continue to pose a major threat due to unavailability of vaccines. One such that pose a risk of breaking into epidemics is Shigellosis which causes fatal diarrheal disease and is notorious to acquire antibiotic resistance. Thus far no vaccines have been developed due to low immunogenicity as well as serotype specificity. Prof Dhirendra Katti's group in collaboration with Prof. Hemant Koley at ICMR-National Institute of Cholera & Enteric Diseases, have developed a stable intranasal Vaccines against Shigella dysenteria. They took a rational approach to develop a vaccine wherein, conserved protein Sd1 from Shigella dysenteria and conserved immunogenic protein, IpaC were used. Using a detergent-based technology to stabilize the heterogenous complex of the two proteins, it was found to evoke a robust immune response when administered orally in BALB/c mice. The authors further displayed that the vaccine conferred protection not only against S. dysenteriae but also heterologous Shigella flexneri.