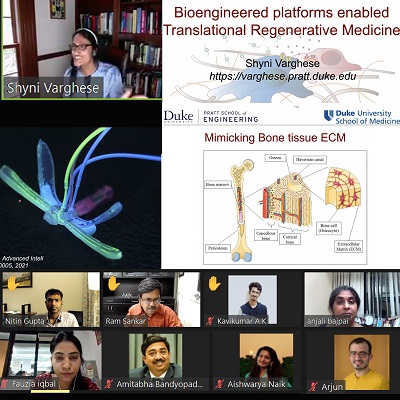 MFCEM Dialogues Series#4
with
Prof Shyni Varghese
on
Bioengineering platforms for mechanistic understandings and therapeutic interventions
The fourth event of the MFCEM Dialogues was held on the 26th May 2022 over a Zoom discussion with Prof Shyni Varghese, who holds a triple appointment at Duke University departments of Biomedical Engineering, Mechanical Engineering and Materials Science, and Orthopaedic Surgery. She is also the first MEDx Investigator at Duke, an initiate to enhance collaborations between doctors and engineers. Prof Varghese is a tall leader in the field of biomaterials and stem cell biology, and her research area spans three major areas of Musculoskeletal tissue repair, Disease biophysics, and developing Organ-on-a-chip technology.
In her talk titled: Bioengineering platforms for mechanistic understandings and therapeutic interventions, Prof Varghese provided a bird's-eye view of the multiple ongoing research tracks in her group and elaborated some. In brief, she spoke of developing biomaterial for culturing stem cells for regenerative studies. In particular, she shared her work on mimicking Bone Tissue ECM, having a characteristic mineral rich environment to develop "in situ" tissue repair mechanisms. Prof Varghese also provided a peak into how her group is trying to understand the dual functions of "secreted Adenosines" during bone injury as molecular cues for damage, as well as a trigger for pain.
Yet another interesting work she shared was on smart Biomaterials, particularly on self-healing hydrogels and developing Macro-encapsulated technology as subcutaneous implants for tissue repair. Prof Varghese, also talked about her groups' efforts on building organ-on-chip, wherein she discussed Tumor-on-a-Chip Device which allowed the study of Cancer-and-Immune Cell Interactions.
Prof Varghese ended where talk with a fascinating display of a stimuli-responsive, self-healing, multifunctional Soft Robot, which started more as a fun exercise in her lab. Intriguingly, the dragonfly-shaped body allows the soft robot to undergo user- and environment-controlled locomotion even over water surface, and could be used to detect water acidification, temperature changes, and hydrophobic impurities such as oil.
Finally, Prof Varghese also pressed upon the importance of pushing one's boundaries, both intellectually and with making choice of the diverse fields to explore. She emphasized on hard work, single minded focus and to have an unsatiable appetite to learn.
Student Interaction
Post her enthralling talk, Prof Varghese interacted with students from labs with overlapping research interests. In response to PhD student Sneha Gupta's query on the status of peristomium in the context of adenosine-releasing bone bandages, Prof Shyni responded that the peristomium is largely left intact, and further clarified that they use sustained-release kinetics in these bandages. When further pressed upon by Irfan Qayoom, if Prof. Varghese's group is planning to look at Adenosine in Osteoporatic fractures and whether Adenosine also affects other cells, such as the immune cells involved in bone affections: Prof Varghese responded that both of these are under investigation and they do see a striking switch in lineage of macrophages. To Aman Mahajan, query on the use of "transplantation pouch", Prof Varghese clarified that the pouch is so engineered to allow free diffusion of secretory molecules but importantly protected the encapsulated cells from host immune attack. When further queried if subcutaneous mouse models were good enough to demonstrate the efficacy for musculoskeletal tissue regeneration, Prof Varghese replied that since subcutaneous region is devoid of any blood vessels or cells specific to musculoskeletal tissues, it is a valid model to study the independent efficiency of engineered scaffolds for tissue regeneration.
The session ended with an open invitation to Prof Shyni Varghese to visit IIT Kanpur, wherein she also serves as member of the International Advisory Board for the Mehta Family Center for Engineering in Medicine.