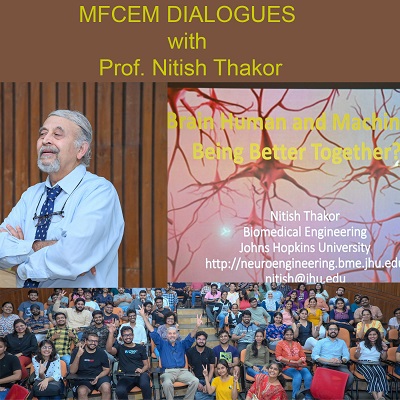 MFCEM Dialogues #6 & Student Interaction Session
with
Prof. Nitish Thakor, Johns Hopkins University
on
Humans and Machines - Being Better Together?
Dr. Nitish Thakor is a professor of Biomedical Engineering and Neurology at the Johns Hopkins University School of Medicine. He received his undergraduate degree from the Indian Institute of Technology Bombay, India, and went on to earn both an M.S. and a Ph.D. in biomedical engineering from the University of Wisconsin-Madison.
Prof. Thakor over two days, interacted with students sharing with them his academic journey, the challenges he faced and how he overcame them—on day one; and on day two he shared his works on neurological instrumentation, neural prosthesis and biomedical signal processing and the many applications of neural and rehabilitation technologies at the brain-machine interface, in an engrossing seminar titled: "Humans and Machines - Being Better Together?"
Prof. Thakor shared his research on developing next generation neurally-controlled upper limb prosthesis. He discussed about neuromorphic encoding to naturalistically convey sensory information in amputees. Prof. Thakor further explained how these could be incorporated in the design of the sensors themselves to facilitate extraction of high-level abstract information such as texture or shape. Prof Thakor also discussed how the brain particularly of individuals with an amputation, response, perceives and process sensory feedback signals.
Prof. Thakor, also provided a glimpse of his work in augmented or virtual reality. He reiterated the fact that traditional rehabilitation environments for amputees are costly, require skilled clinical and technical helps; and how his team, is working to develop training and evaluation environments in augmented and virtual reality, particularly for use by upper limb amputees. Prof. Thakor displayed how an amputee could control prosthetic limb to manipulate virtual objects using a variety of control strategies and feedback modalities. Prof. Thakor also spoke about soft prostheticsm such as biomimetic finger with texture discrimination feedback. One of the fascinating point of discussion was on muscle reinnervation, inorder to allow amputated nerves that are still capable of sending electrical control signals from the brain, to reconnect to denerved muscle grafts.
Prof Thakor, dedicated an entire session to interacting with students, and urging them to be passionate, dedicated and a constant leaner. He also instilled in students the need and importance of cross-disciplinary approach to solving pressing challenges in the biomedical field. With matching gusto he encouraged students to create opportunities to translate their science into potential entrepreneurial activities.