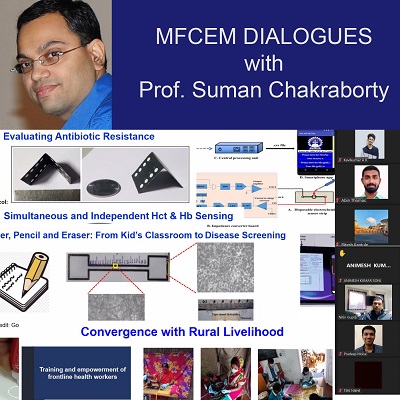 MFCEM Dialogues #7
by
Prof. Suman Chakraborty, IIT Kharagpur
on
Democratized Diagnostic Technologies for Affordable Healthcare
Prof. Chakraborty is a global-pioneer of disruptive diagnostic-technologies for resource-limited settings. For his trailblazing works leading to affordable healthcare, he has been awarded the Infosys prize and the Shanti Swarup Bhatnagar Prize.
In the MFCEM Dialogue seriess, on 22nd December, Prof. Chakraborty gave an overview of the area of disruptive diagnostic-technologies and emphasized on the need to bridge the wide chasm in diagnostics that exist between urban and rural India.
He shared many of his innovations including the very low cost "Printed Paper Strips" for disease detection using body fluids such as, blood plasma, serum, saliva etc. Prof Chakraborty demonstrated how innocuous items of the paper, pencil coupled with simple electrodes could be used to construct effective and affordable devices for diagnostics. He showed how such portable and handy analytical units with embedded electronics can serve as on-chip detection of multiple target analytes. He also touched upon wearables digital devices, such as simple pH sensor as well as paper-based devices for testing antibiotic resistance.
Prof. Chakraborty displayed how he coupled 5G digital technology, having created a built in App for smart phones for robust image processing and color detection of biological reaction which would allow real time biological screening such as for hemoglobin. He also demonstrated a scalable multiplex electrochemical detection on a paper strip with smart phone interfaced spectrometry.
Further Prof. Chakraborty discussed, lowcost, portable, hand held Imaging device for early detection of Oral cancer and pre-cancer based on measured changes in blood flow rates of the tissue from thermal imaging and analytics; the early prototype with minor sophistication and automation is ready to be used in the field for commercial purposes. Prof. Chakraborty also shared his recent innovation on Nucleic acid-based Rapid Point-of-care testing technology for infectious disease detection.
Further, Prof. Chakraborty also shed light on how making these simple affordable devices also ensured convergence with rural livelihood; training and empowerment of frontline health workers, in parallel facilitating entrepreneurship and livelihood generation.
Finally, Prof Chakraborty motivated students to work with passion and single minded dedication to achieve ones goals. He particularly encouraged students to venture beyond their areas of trainings and to seek collaboration to address challenging issues in medical sciences.