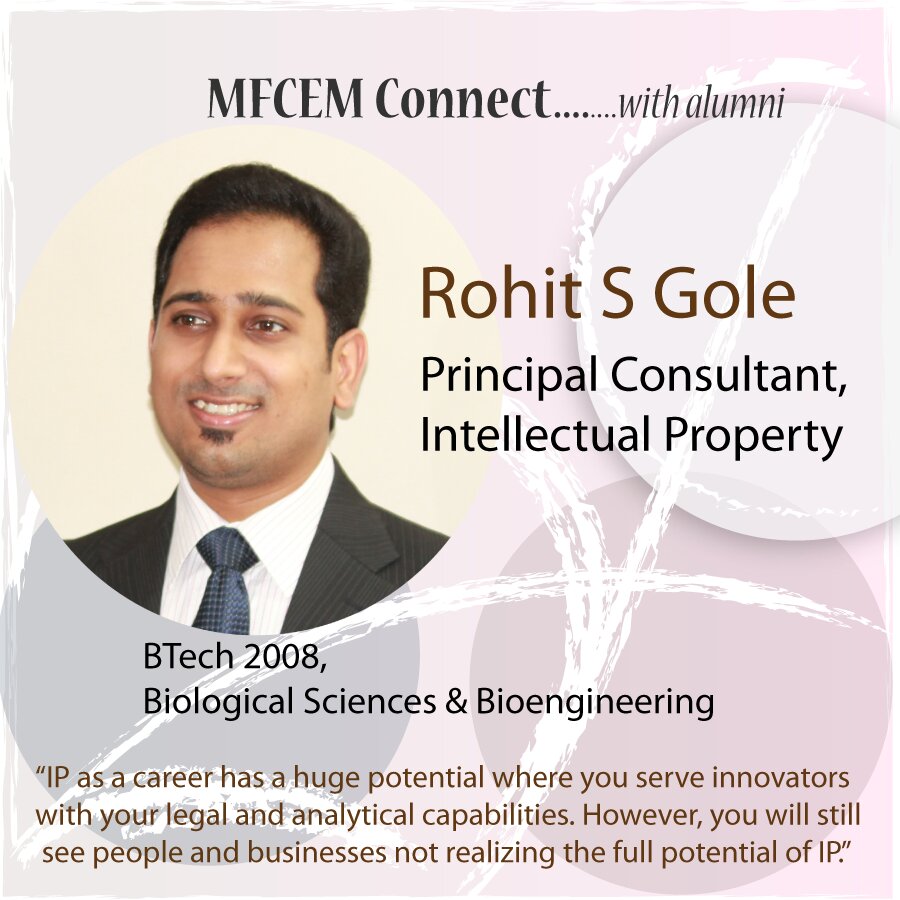 featuring
Rohit Singh Gole
[BTech-2008, Biological Sciences & Bioengineering, IIT Kanpur]
Clarivate, Principal consultant, Intellectual Property.
MFCEM: Hi Rohit! Great to connect!
You certainly have developed an expertise in quite a niche area of technology and patent portfolio development, and patent protection. Did your undergrad training, particularly in biological sciences help you navigate better, or did you also develop the much-needed skills along the way?
Rohit Gole
IIT Kanpur was my second home and I have seen myself grown up. We were the pioneer batch of the department: not just in name, but in spirit and much needed skills to nurture ourselves. We had the opportunity to explore areas of our interest. It was Dr. Dhirendra S. Katti and his lab that helped me to explore my interest about innovation and IP rights. As I moved along my career, I become a seasoned IP thought leader. 
I strongly believe that innovation comes when you generate ideas and brilliance comes when you patent your ideas.
MFCEM: Further, do you think with many top international Universities offering a wide range of tailormade courses today, can students today explore a little more beyond their formal training at IITs, to be better equipped with complimentary skill sets?
Rohit Gole
IIT Kanpur is not an institute which only gives you academic qualifications in a formal set-up, it is your dream. It helps you in improving your knowledge, expanding your horizons and instills within you a confidence. There are many examples that illustrates how students have explored and achieved greater heights beyond their formal education. I would want academic management to put conscious effort to modify the mandatory and optional courses based on industry and societal needs.
MFCEM: For the young undergraduates still deliberating on their preferred career choice, would you like to briefly tell them of the pros & cons of a career in IP development.
Rohit Gole
Innovation and protection are the key to thrive in today's dynamic and turbulent global community. IP strategy is an important core function of businesses.
IP as a career has a huge potential where you serve innovators with your legal and analytical capabilities. However, you will still see people and businesses not realizing the full potential of IP.
Make a career choice that reflects your capabilities, passion and happiness. Don't forget to change gears if it does not work in a longer run.
MFCEM: For all the youngsters just starting on their career, what would your advice be?
Rohit Gole
My advice is to make a career choice that reflects your capabilities, passion and happiness. Don't forget to change gears if it does not work in a longer run. And always be ready to take risks. You might need to craft and elevate your skills to achieve short- or long-term success.