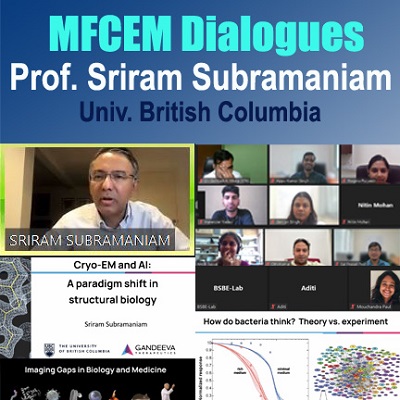 MFCEM Dialogues Series#5
with
Prof Sriram Subramaniam
on
Cryo-EM and AI: A paradigm shift in structural biology
The fifth event of the MFCEM Dialogues was held on the 20th July 2022 over a Zoom discussion with Prof Sriram Subramaniam, University of British Columbia, Department of Biochemistry and Molecular Biology. He holds the Gobind Khorana Canada Excellence Research Chair (CERC) in Precision Cancer Drug Design. Prof Subramaniam delivered a talk titled "Cryo-EM and AI: A paradigm shift in structural biology". Prof. Subramaniam is globally recognized for his pathbreaking contributions in cryo-electron microscopy (cryo-EM)—he was the first to demonstrate atomic resolution cryo-EM of proteins and small molecule interactions, and ultimately use of cryo-EM in precision medicine.
Prof Subramaniam received his master's degree in Chemistry from IIT Kanpur, Ph.D. in Physical Chemistry from Stanford University and postdoctoral training at the Massachusetts Institute of Technology with Prof. Har Gobind Khorana. He went on to become the chief of the Biophysics Section of the National Cancer Institute.
In his talk, Prof Subramaniam spoke at length on methodological advances in cryo-EM, its use to gain unprecedented insights into structures of proteins and their multiple conformational states when bounds with interacting proteins, DNA/RNA, small molecule drugs or larger biomolecules. He shared some of his pathbreaking work on unravelling the structural basis of increased fitness of SARS-CoV2 variants. He also shared the power of cryo-EM in capturing the structure of proteins when in "action", and how snap shots of these can provide unseen real-time behavior of proteins.
Prof. Subramaniam, also spoke about Gandeeva Therapeutics Inc., of which he is the founder and CEO, and on how he hopes to revolutionize drug discovery using Cryo-EM and machine learning technology and ultimately bring personalized therapy within easy reach.
Student Interaction
Post his talk, Prof Sriram had an interaction session with students of select labs with overlapping interest. Many students were keen to know more about how he successfully translated his science, particularly his technological understanding of cryo-EM into an entrepreneurial venture. They quizzed him about what it takes to be a successful PI running a research group and alongside being a CEO of drug discovery company.
Prof Sriram in turn attributed much of his success and ease to take up seemingly unsurmountable challenges to his early undergraduate education at IIT Kanpur and strong mentorship that he received since. He shared how the eclectic training he had had, along with introduction to different areas of science and research and a sense of perseverance fuels him to constantly take on new challenges. He encouraged students to be unafraid to take calculated risks and push one's limits.
The session ended with an open invitation to Prof Sriram Subramaniam to visit IIT Kanpur, not only in the capacity of an alumnus but also since he serves as member of the International Advisory Board for the Mehta Family Center for Engineering in Medicine.