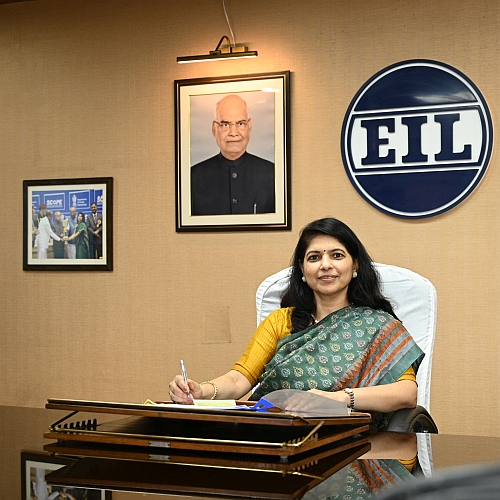 Ms. Vartika Shukla (BT/CHE/1988)
Ms. Vartika Shukla received her bachelor's degree in Chemical Engineering from IIT Kanpur in 1988. She is also certified with an Executive General Management Programme from IIM Lucknow. She currently serves as the Chairperson and Managing Director (Technical) and Director (Finance) of Engineers India Ltd. (EIL).

Ms.Shukla started her career as a management trainee in EIL's Process Division in the year 1988. She possesses more than 32 years of extensive technical and consulting experience across the hydrocarbon value chain and has led the company to the successful completion of many prestigious projects in Oil & Gas Refining, Petrochemical, Fertilizers sector both in India and overseas.

Ms. Shukla has been associated with the various functions of the organization during her vast career. As Director (Technical), she has steered the Process Design, Research & Development and the entire Engineering functions of the company which are critical for project implementation. She has also been very closely associated with developing in-house competencies and strategizing for new business opportunities both in the core hydrocarbon sector and in diversified areas of operations. She has been steering several new initiatives of the company in the area of BioFuels, Digitalization, Energy Efficiency, Make in India and StartUp India and was instrumental in forging several key Collaborative Partnerships for expansion of Technology Portfolio of EIL.

Ms.Shukla has made immense contributions to the development of National Policies, especially in the area of BioFuels and future road map for the refining and petrochemical sector.

Ms.Shukla is an active member of various industry forums like FIPI, CII, FICCI, and has served on the Editorial Board of FIPI Journal as well. She has also authored a number of significant research papers in the areas of Refining, Petrochemicals Oil & Gas, offering strategies & technical solutions to the industry. She is also a recipient of various prestigious national and international awards, such as SCOPE Excellence Award, & MoPNG Innovation Award. She was the first woman executive in Indian Oil & Gas industry to be bestowed with PETROFED Woman Executive Award. Honoring her stellar contribution in the field of Chemical Engineering and Technology, IIT Kanpur confers upon Ms.Vartika Shukla the Distinguished Alumnus Award of 202l.