Suchik
Project Goal
A workbench (software program) to create and manage comic strips since comics is a novel way of education. The comic's strips could be made in several Indian languages. It can be seen as a visual learning tool which can be used for learning and exchange of ideas through comics In English and in Indian languages.
Summary
Comics are indisputably one of the easiest ways to reach into a child's mind. A human being is alert to various forms of learning experience. An imprint on the mind is sounder when one learns a concept through a humorous visual experience. Learning and exchanging ideas through comics therefore seems very plausible. A software workbench for creating comics therefore seemed very much in the calling. Besides creation of comics manually is not only time consuming but laborious too. Also manual creation needs specialized artistic and editing skill.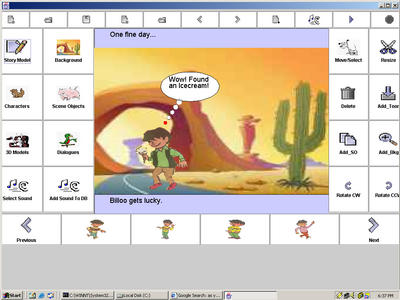 The Suchik editing interface
Relieving the comic strip creator of certain tasks, through a visually pleasing and intuitive interface to handle the design and allowing him to work on the creative aspects of the comic was one of the motivations behind the project. The school children, fond of comic books like "Dilbert" or "Chacha Chowdhury" can create their own cartoon characters and generate a story using this tool which in turn will inspire their creativity, skill of expression, emotion and other behavioral aspects. Exchange of ideas and teaching abstract concepts through comics would make the educational process much more enjoyable and creative. The program is intended to work for different Indian languages besides English. Second module of the program will generate it's own cartoon characters which users can import while generating their own story lines.
Research Work
The main advantage of developing this type of program is that it is visually oriented and tells more than an ordinary text book. Also the students can have fun while learning. But these advantages can only be optimized if it is possible to develop the program in local languages. The problem comes here as well as in the requirement of the research. The other part of the research in regard to this project is to develop a full scale caricature program in 2D and 3D and to amalgamate it with the main program. Using the caricature facility the user can not only create his or her own characters but also he or she can make it meaningful and funny. The feature extraction, feature transformation, the methodology of which can probably developed using the techniques of affective computing. This is the other research area associated with this project.
Project Investigator
Prof S G Dhande
Dr.
A Chatterjee