Infothela
Infothela is a mobile unit meant for providing and exchanging information through fax, internet, telephony etc. It will serve the purpose of education, entertainment, and provide agriculture based information, weather information, health care information, government information, etc.
The idea of designing an infothela is to provide, exchange information at village level where fruits of modern technology have not reached yet. The factor of mobility is of utmost important here as the thela can move from place to place in a day and one or more cluster of villages which are situated 3-4 kms apart in general and thus the thela can provide its services to all those villagers.
The thela will generate a self-employment avenues (just like PCOs) for urban and village population. It is a self-sustaining project aimed to deliver information and spread knowledge among poor masses.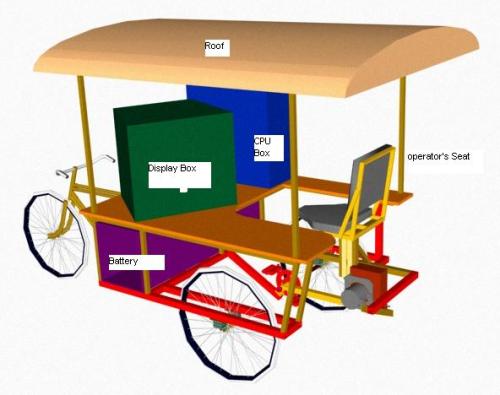 Infothela
It is basically a pedal driven vehicle just like a common cycle rickshaw and there will be a personal computer on board which will be connected to internet using wireless technology. It is designed keeping in mind the village conditions in the country where electric power is not available all the time. So a pedal generator is designed in such a way that while pedaling, battery will keep on charging for running the on board computers and equipments. The battery power pack for Infothela has been developed.
It is also designed to accommodate diagnostic equipments like blood pressure testing machine, blood sugar testing machine, and some other primary health diagnostic and testing equipments.