Mechanical Design for Infothela
Introduction
Infothela is a mobile platform located on a re-engineered tri-cycle rickshaw with a 1711 colour display and a CPU, powered by a 12V, 135 AH battery through an inverter. The battery and the inverter are mounted below the platform. The battery is charged overnight in a nearby town through an electric point and charging is also supplemented by an inbuilt pedal power generator.
It is connected to internet through 802.11 p-t-p link by a small wireless antenna on the top of the Infothela roof.
It is made resistant against shock & vibration, dust, rainwater and theft.
Specifications
| | |
| --- | --- |
| Size of body (L x W x H) | 1500 mm x 1250 mm x 2000 mm |
| Size of roof (L x B) | 2030 mm x 1250 mm |
| Weight of Infothela | 200 Kg (approx.) |
| Power Consumption | 100 W |
| Estimated Cost | Rs. 50,000 |
Construction
The front frame is same as that of tricycle. The rear frame is fabricated from square steel tube for high stiffness and strength (Figure 1).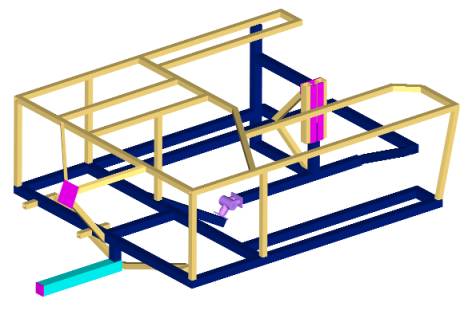 Figure 1: The rear frame of the Infothela
The rear axle of rickshaw is removed to install the pedal power generator. The torque is transmitted from pedal crank to rear wheel through an intermediate shaft (Figure 2). The second rear wheel is freely moving and acting as a differential.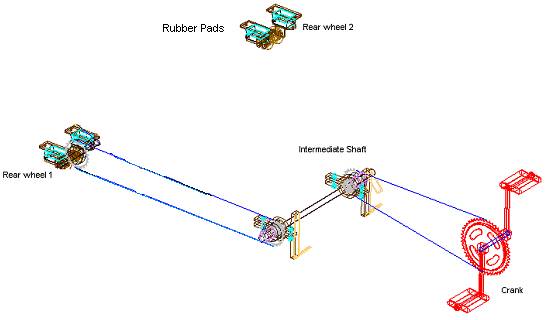 Figure 2: Power transmission to a rear wheel through an intermediate shaft
The rear wheels are mounted through rubber pads acting as shockers.
Specially designed enclosures are made to house the display and the CPU. A foam padding, placed at bottom of the display and CPU, has been carefully selected to protect them from shocks and vibrations. The enclosures are mounted on the platform such that these can be removed along with display & CPU for taking them to a safe place in the night. The rest of the Infothela can remain parked outside the house in the night (Figure 3).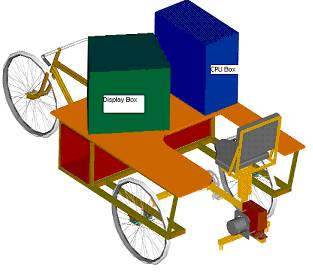 Figure 3: Infothela without roof
A Pedal Power Generator is fitted at the rear of Infothela. The operator can pedal it to charge the battery and at the same time can help customers to operate the computer.
The display is oriented at an angle so that it can be viewed simultaneously by the operator and the customers. Customers will be provided with portable plastic stools for sitting on the left side of Infothela.
Roof is made of M.S. sheet (26 SWG = 0.5mm thick) and is supported on a light structure.
The Infothela body is painted for aesthetics and weather protection.
Uses
It is a mobile information and communication facility for the rural masses. The common multiple uses are:-
Internet
Entertainment
Education
Health
E-business
E-Governance
Digital Mandi
Training
Employment
Photographs
Darshan of Holy places
Tele-medicine
Banking
Weather Information etc
Project Investigator
Prof Prashant Kumar