Design of Power Resources for Infothela
The project deals with the development of electronics associated with the battery inverter and charger for driving the Infothela.
The Inverter and Charger unit for the Infothela has been developed and a laboratory prototype has been tested. Work is going on to design a suitable enclosure of the power and control electronic circuits of the inverter and charger unit. Detailed specifications of Battery Power Pack, Inverter and Charger Unit are given below.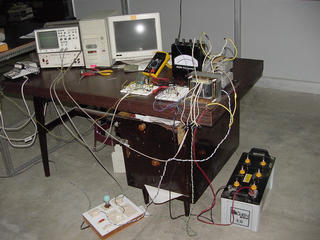 Battery
Exide InvaQueen500 (12 V, 135 Ah)
Single pack, Lead Acid
Weight: 36 kg
Dimension: 50cm x 22cm x 26 cm
Inverter
MOSFET based Inverter with transformer (250 VA) capable of supplying the computer (P-IV@1.6 MHz, 17" Color Monitor) continuously for 8 hours
Quasi square-wave output, 250 VA output (continuous)
Input: 12 V dc
Nominal output voltage and frequency: 220 V (5%, 50 Hz +/- 1 Hz)
Overload and short-circuit protection
Closed-loop voltage control (PWM type) for constant voltage and frequency operation. Output: 240 V (2%, 50 Hz ( 2%) with variable load and battery voltage
Battery low indication facility
Operating temperature: 0oC to 70oC
Storage temperature: -65oC to 150oC
Charger
Capable of charging the battery from three different sources

Pedal generator with a voltage of 14 V.
Portable diesel generator with a voltage of 200 - 240 V, 50 Hz.
Normal single phase ac supply with allowable fluctuation of 140 - 270 V, 50 Hz.

SCR based constant current charging of battery with minimum energy loss.
Charging Current is 10 % of the battery Ampere-hour.
Duration of charging from portable diesel generator/ single phase ac supply for full charging is 6 to 8 hours.
Input voltage: 80 V to 270 V ac, 50 Hz
Charging voltage: 13.5 V
Charging current: 9 A
Operating temperature: 0oC to 70oC
Storage temperature: -65oC to 150oC
Weight and Dimensions of the Inverter-Charger Unit
Weight: 15 kg
Dimensions: 50cm x 25cm x 26 cm
Project Investigator
Prof S P Das