1
Atul Gopal, is the co-founder and trustee of three schools, which work under the Peepal Tree umbrella, was delivered a talk on "Ending the ICE (Internal Combustion Engine) age"Mon, 6 June 2022, L13, 02:30 PM IST.
The lecture will be hosted online via the following Zoom link : https://iitk-ac-in.zoom.us/j/98701559127?pwd=Z0lCVWNEejIzTmJDNU1FQi80ekdadz09
Meeting ID: 987 0155 9127
Passcode: 243271
The details of the lecture and a biography of the speaker can be found on Click here
---
2
Kick-Off Meeting of DST Materials MAP will be held at IIT Kanpur on 27th-28th May 2022 and will be attended by the DST officials and professors from 13 elite institutions of India.
DST has launched Integrated Clean Energy Material Acceleration Platforms with IIT Kanpur as the lead institute for the Materials platform. Prof. Kanwar Singh Nalwa of Sustainable Energy Engineering is the Head of the DST-IIT Kanpur center on Materials. The objective of this platform is to design materials for energy harvesting by employing quantum mechanics-enabled atomistic simulations, AI & ML algorithms and, automation.
---
3
Prof. Rakesh Agrawal, Distinguished Professor at Purdue University, who is also a Distinguished Alumnus of IIT Kanpur, was delivered a talk on "Engineering Solutions for a Solar Economy"on Wed, 27 Apr 2022, 04:00 PM IST.
The lecture will be hosted online via the following Zoom link : https://iitk-ac-in.zoom.us/j/94617440128?pwd=SXNxZ1JjeStGWDc3WG9LSFRhaHpIdz09
Meeting ID: 946 1744 0128
Passcode: 433641
The details of the lecture and a biography of the speaker can be found on Click here
---
4
An IITGN-IITK joint symposium on Energy Technologies was held at IITGN on 15-16 April 2022. Symposium Poster
---
5
Dr. Soumyabrata Roy, Post-doctoral Research Fellow, Department of Materials Science and Nanoengineering at Rice University, was delivered a talk on Developing Sustainable Pathways to Fuels and Chemicals from GHGs and H2O Tue, 12 Apr 2022, 04:00 PM IST.
---
6
Dr. Sudarshan Narayanan, Post-doctoral Fellow, Department of Materials at University of Oxford, was delivered a talk on Characterisation, design and engineering of interfaces in energy materials Fri, 8 Apr 2022, 04:00 PM IST.
---
7
Dr. Ankit Singhal, Research Engineer, Energy and Environment Division, Pacific Northwest National Laboratory (PNNL), USA, was delivered a talk on Decentralized Approaches for Distributed Energy Resources' (DERs') Integration into the Electric Grid Thu, 31 Mar 2022, 05:00 PM IST.
---
8
Dr. Barun Kumar Barman, JSPS Postdoctoral Fellow, Photonics Nano-Engineering Group, National Institute for Materials Science (NIMS), Japan, was delivered a talk on Carbon Based Nanostructures: Green Synthesis to Energy Generation and Storage Thu, 24 Mar 2022 04:00 PM IST.
---
9
Dr. Ahamed Irshad M, Post-doctoral Fellow, Department of Chemistry, University of Southern California, Los Angeles, USA, was delivered a talk on Electrochemistry for a Sustainable Future Tue, 22 Mar 2022 04:00 PM IST.
---
10
EIL team visited SEE department on 28 Feb 2022 to explore collaboration possibilities in various fields of mutual interest. Team visited ACMSlaboratory and showed their keen interest in our lab facilities. A useful discussion a productive session of discussion with SEE faculty members was also conducted which included topics like working on materials testing for transportation, Hydrogen storage, generation and utilization. A broad consensus to carry out short term and long term activities in-line with our Centre's mandate on carbon capture, has also been developed.
---
11
Dr. Siddavatam Ravi Prakash Reddy, Post-doctoral Fellow, Department of Electrical and Computer Engineering at University of Houston, was delivered a talk on High-performance Control of Induction Motor Drives for Electric Vehicle Applications Mon, 14 Mar 2022 04:00 PM IST.
---
12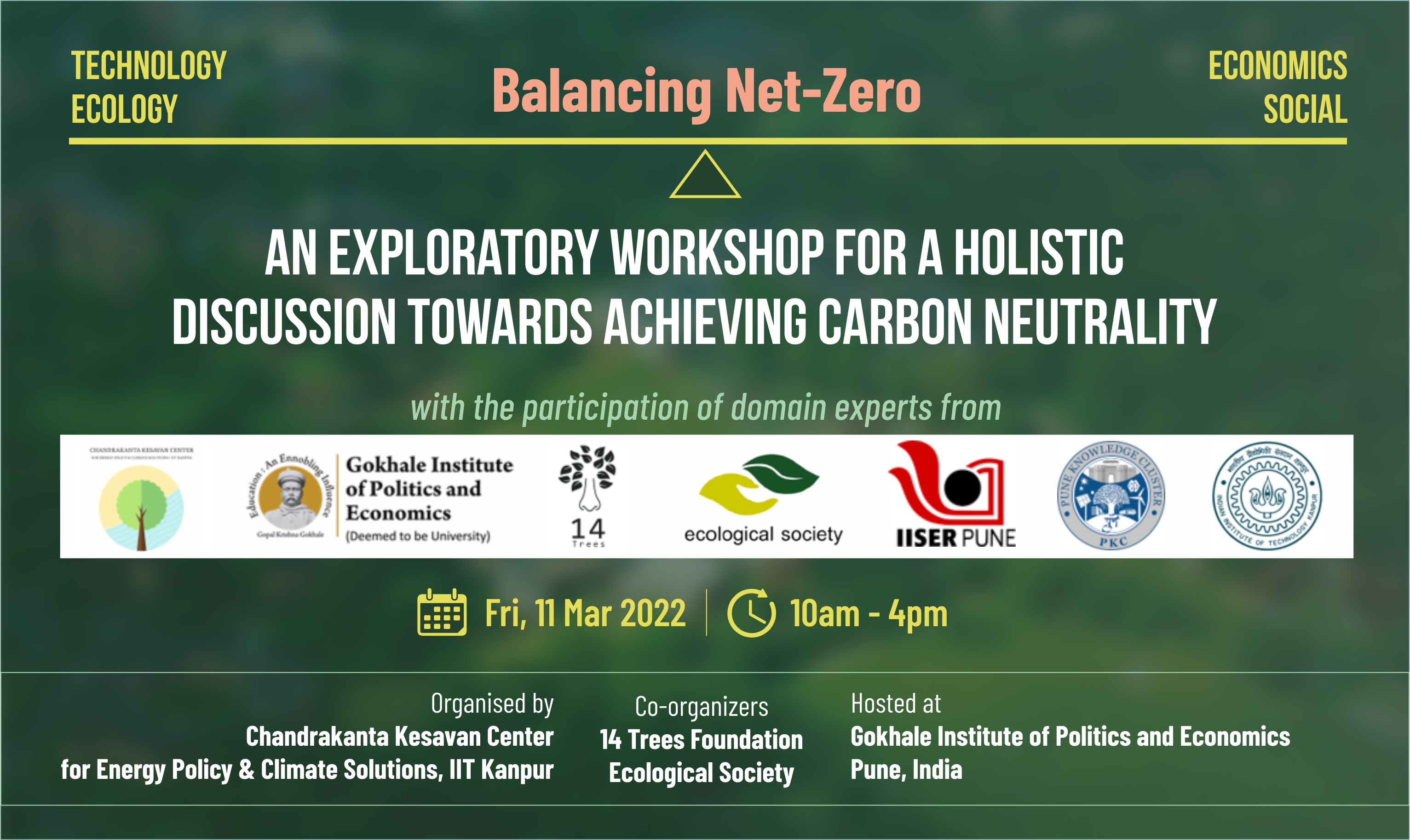 Exploratory workshop on "Balancing the Carbon Neutrality and Sustainability" on 11 March 2022 at Gokhale Institute of Politics and Economics, Pune, India.
Workshop Poster | Website Link | Events Pictures
---
13
Dr. Mahamad Nabab Alam, Assistant Professor, Department of Electrical Engineering, National Institute of Technology Warangal, was delivered a talk on Protection of Networked Microgrids Tue, 8 Mar 2022, 04:00 PM IST.
---
14
Dr. SuryaPrakash Singh, Principal Scientist, Department of Polymers and Functional Materials, Indian Institute of Chemical Technology, Hyderabad, was delivered a talk on New Light-Harvesters: Molecular Engineering and their Applications Fri, 04 Mar 2022 04:00 PM IST.
---
15
Dr. Kaushik Pal, Postdoctoral Research Associate Dept. of Materials Science and Engineering Northwestern University, Evanston, IL, USA, was delivered a talk on Autonomous Computational Discovery of Sustainable Energy Materials Thu, 03 Mar 2022 04:00 PM IST.
---
16
Dr. Tushar Sikroria, Department of Mechanical Engineering University of Melbourne, was delivered a talk on Examination of flow dynamics using optical diagnostics Wed, 25 Feb 2022 04:00 PM IST.
---
17
Dr. Amarendra Edpuganti, Post-doctoral Fellow, Department of Electrical Engineering and Computer Science at Khalifa University, Abu Dhabi, UAE, was delivered a talk on New Multiport Converter for the Solar PV Panels of CubeSat Wed, 23 Feb 2022 04:00 PM IST.
---
18
Department of Sustainable Energy Engineering (Dr. K. S. Nalwa) organizer and Chandrakanta Kesavan Center for Energy Policy and Climate Solutions are co-organizing the UK-India SUNRISE symposium on "Transition to NetZero" on 10-11 February 2022, to be held on virtual platform.
The symposium will showcase technology development sessions on food, water, energy and Net Zero. Food, water and energy together makes the foundation for socio-economic development and well-being, but also significantly contributetowards global warming and climate change, which raises the concern of environmental and ecological sustainability. Food-Water-Energy-Climate Nexus with transition towards Net Zero will be an effective way to deal with these complicated issues, which would require an interplay of technological interventions, and dedicated efforts of multiple stakeholders including academicians, researchers, industries and decision makers in this direction. SUNRISE symposium will explore the linkages between water and hygiene, energy harvesting, energy systems, food production and food security in the context of decarbonisation and Net zero through global collaboration of leading research teams and industries. For more information click here
---
19
Dr. Rajeev Jindal, Sr. VP and Business Head (Lighting) at C & S Electric Ltd, was delivered a talk on c-Silicon Photovoltaic – Trends and Opportunities on 26 October 2021, 04:30 PM IST.
---
20
Dr. Prabodh Bajpai, Associate Professor in the Department of Electrical Engineering at IIT Kharagpur, was delivered a talk on Resiliency Framework for Electrical Power Networks on 20 October 2021, 03:30 PM IST.
---
21
Panalytical in collaboration with IITK is hosting a 2-day free webinar titled "Optimizing battery materials and their performance using XRD and various characterization tools" on 05 - 06 October 2021, coordinated by Dr. Kanwar Singh Nalwa. Free Registration | Webinar Flyer
---
22
Dr. Amitava Banerjee, Director's Postdoctoral Fellow in Materials Science & Technology Division at Los Alamos National Laboratory, USA, was delivered a talk on Materials Modelling for Energy Conversion-Storage and oxide defect thermokinetics on 29 September 2021, 10:00 - 11.00 AM IST.
---
23
First Department Advisory Committee Meeting held on 27 September 2021 (on zoom)


---
24
Dr. Deepika Swami, Climate Change-Fellow with the Department of Forest, Ecology, and Environment, Government of Karnataka, was delivered a talk on Climate policy assessment at ground level and Energy resource planning on 24 September 2021, 10:30 AM IST.
---
25
Dr. M. Ulaganathan, Ramanujam Fellow from CSIR -CECRI, Karaikudi, Tamil Nadu, was delivered a talk on Modifications of Porous Separator for Hindering the Ion-crossover in Zn-Br2 Redox Flow Battery on 21 September 2021, 11:00 AM IST.
---
26
Dr. Poonam Pandey, Assistant professor in the area of Public Policy at FLAME University, Pune, was delivered a talk on Biofuel Policies, Straw Burning and Agri-Energy Futures in India on 17 September 2021, 11:00 AM IST.
---
27
Sonam Wangchuk, Ladakh based Innovator, Educator and Ramon Magsaysay award winner, was delivered a special lecture in SUNRISE symposium.
---
28
EPSRC (UK) Sponsored Indian-UK SUNRISE Virtual Symposium to be held on 22nd February 2021 to 25th February 2021, Chaired by Prof. Raju Kumar Gupta
---
29
Department established on 7th Dec 2020 by the Board of Governers of IIT Kanpur on the recommendations of Academic Senate.