Newsletter - January 2023 | Volume II | Issue II
The Indian Institute of Technology, Kanpur (IITK) has established the Chandrakanta Kesavan Center for Energy Policy and Climate Solutions to assist policy makers with practical solutions to the problems of climate change. India as a signatory to the Paris Climate Agreement will need to develop, adapt and implement technologies to reduce emissions and grow sustainably. The Center can spearhead the development of technology and policy solutions to help India and the world combat climate change.

The Center is named after Dr. Chandrakanta Kesavan, who pioneered the entry of Indian women in the fields of science and engineering. The Center was made possible by a gift from Alka and Sudhakar Kesavan to IIT Kanpur. Sudhakar Kesavan graduated from IIT Kanpur with a B.Tech in Chemical Engineering in 1976.
---
---
To spearhead energy and climate policy solutions to help India address climate change related problems.
To emerge as a platform for bringing together eminent academics, technologists, researchers and policy makers to discuss and address energy policy and climate issues.
To strengthen and promote outreach, communication, grassroots engagement in the areas of energy policy and climate change issues.
To help the IIT Kanpur campus to become carbon neutral.
The Center will conduct education, research and outreach relevant to energy policy and climate issues. Emphasis will be on research correlating renewable and alternate energy technologies with the economic, regulatory and policy implications of climate change.
The key goals and activities of this Center will be as follows:

The Center, will strive to become a vanguard institution working at the intersection of technology development, economy and policy-making in the domain of energy sustainability and climate change. The Center will conduct targeted educational programmes to train students in energy policy and economics. It will also work closely with the government, industry, public and other stakeholders.
The educational programmes will be a blend of rigorous course work, based on a mix of energy technologies, energy policy and economics issues, and the thesis work, along with a strong emphasis on communication aspects.
This programme will target the working professionals in the sectors related to energy and climate. The objective of the programme will be to upgrade their professional skills by educating them with on the nexus between energy and climate change, advances in the energy sector, new low carbon technologies, technology mix and distribution, the smart grid, electric vehicles, and energy policy, regulations, economics and communications.
Center's research will focus on economics, policy, and regulatory areas to identify solutions for a low carbon economy and energy sustainability, both locally and globally. R&D will also emphasize on the engagement with various governmental, industrial, and social or non-governmental bodies to influence the policy making. This will help the Center to emerge as the principal thinktank/consultancy in these key areas.
The Center aspires to promote engagement with the government, industry and non-governmental organizations as well as society. These engagements will be done via various means, through joint research with the private sector, public lectures, seminars, workshops, demonstrations, social media and the Center's web presence. The Center aims to work closely with the policy makers to advise on the appropriate low carbon technology mix for India.
The Center will promote and facilitate the interactions and collaboration with the faculty from academia and industry worldwide through various means such as visiting positions, lectures and collaborative projects.
Decarbonizing the economies of India and rest of the world well ahead of impending climate disaster requires the rapid transformation of research ideas into feasible technological solutions. Hence, in this second crucial area related to energy technology development, the Center will emphasize the development of low carbon technologies, particularly cutting-edge technologies with research potential, driven by new and disruptive ideas.
Focus research areas are:
Next-generation solar photovoltaic materials and devices with low cost yet high performance.
Materials and new chemistries for batteries, charging utilities and infrastructure and their implementation in EVs.
Clean fuels, with emphasis on hydrogen as a next generation fuel.
IIT Kanpur to be Carbon Neutral
The Center will spearhead IIT Kanpur's commitment to being carbon neutral. This will allow IIT Kanpur to be showcase testbed for transition to a low and eventually zero carbon campus. This will entail studies related to in-campus electricity consumption, conservation and management (primarily for lighting and cooling), mobility or transportation, water and waste recycling, followed by policy intervention and implementation. This activity will yield several projects that can be undertaken by undergraduate and graduate students.
This will have the added benefit of giving the Center a clear objective as it commences operations. It will raise the visibility of IIT Kanpur and will make it a leader in the effort to help India reduce its emissions as it attempts to adhere to the Paris Accords. The practical experience gained by IIT Kanpur in making itself carbon neutral will be helpful in building credibility for the effort nationwide.
Information Brochure
About Dr. Chandrakanta Kesavan (1918-2004)
Dr. Chandrakanta Kesavan's life is an inspiration to Indian women not only in the domain of Science and Technology but also in other spheres. She earned her Ph.D. in Acoustical Physics from Allahabd University in 1938. In those days, the University was home to many distinguished physicists as faculty, including Dr. Meghnad Saha and Dr. K.S. Krishnan. One of the viva voce examiners for her dissertation was the Nobel Laureate Sir C.V. Raman. Dr. Kesavan worked as an acoustical engineer at All India Radio for most of her career. She was a Fulbright Scholar affiliated to MIT, Cambridge. She also served on the Board of Governors of Indraprastha College for Women, Delhi, for more than three decades.

Read more...
About Mr. Sudhakar Kesavan
After graduating with a B.Tech. Degree in Chemical Engineering, Sudhakar Kesavan went on to complete his PGDM from IIM Ahmedabad and an M.S. from the Technology and Policy Program at MIT. He served as Chairman and CEO of ICF International Inc. (www.icf.com) for over 20 years. With over 7000 employees, ICF is one of the world's largest specialty consulting firms specializing in four broad areas: energy and environment, health and social programs, disaster management, and digital transformation and technology services. He serves on the Boards of several non-profits and corporations in the United States. For his entrepreneurial excellence, in 2010, Mr. Kesavan was conferred with the Distinguished Alumnus Award of IIT Kanpur.
Faculty Members
Research Interests: Energy-efficient Buildings, Impact of Climate Change on Heating and Cooling of Buildings, Indoor Air Quality, Airborne Infection Transmission, and Air Pollution Email: aakashrai@iitk.ac.in

Research Interests: Energy Materials and Environmental Issues Email: anands@iitk.ac.in

Visiting Professor of Practice
Research Interests: Transformative Mobility & Battery Storage Email: anilshri@iitk.ac.in

Research Interests: Understanding India's energy demand transitions, and identifying ways to lock-in low-carbon energy consumption patterns for the long-term Email: anna@iitk.ac.in

Center Coordintor
Research Interests: Solar photovoltaics, Energy Harvesting, Energy Policy Email: ashishg@iitk.ac.in
Research Interests: Solar photovoltaics, storage, Energy Distribution Email: ksnalwa@iitk.ac.in

Research Interests: Electrochemical Energy Conversion and Storage, Numerical Modelling, Porous Media Transport Email: lalit@iitk.ac.in

Research Interests: Heat Transfer and Fluid Flow, Computation and Experiment, Turbulent Flow Simulation and Modelling, Solar Thermal Sub-system Design, Nuclear Reactor Thermal Hydarulics Email: lchandra@iitk.ac.in

Research Interests: Energy and Climate Change Economics, Energy Transition, Energy Policy, Industrial decarbonisation (Green Steel, Green Hydrogen) Email: mousami@iitk.ac.in

Research Interests: Energy Technology and Policy, Carbon neutrality, c-Si Solar Cells and metal-ion batteries Email: rajeevj@iitk.ac.in

Research Interests: Solar Photovoltaics, storage, Water related issues Email: guptark@iitk.ac.in

Research Interests: Climate Issues, Climate Modelling, Environment, Air Pollution Email: snt@iitk.ac.in

Visiting Professor of Practice
Research Interests: Impact Investment, Clean Air, Climate, Energy Transition Email: vchowdhary@iitk.ac.in

Staff
---
I am pleased to inform you that a paper has recently been published in Nature Geoscience by
Ms. Suneeti Mishra
under supervision of
Prof. S. N. Tripathi
. The paper provides mechanistic understanding of nanoparticle growth in Delhi and the findings have important implications to human health and climate The paper is also highlighted by the editorial in the same issue too.
Read Article
---
An article published in
The Indian Express
under
Idea Exchange Section
, titled "
strengthen pollution regulators, get more staff, train them in tech and back up with stringent norms
", an Interview of
Prof Sachchida Nand Tripathi
where he talks about the '
low hanging fruits
' approach to managing air pollution, wind patterns which magnify the impact of stubble burning, crop diversification and a realistic AQI assessment for Delhi.
Read Article
---
An article published in The Indian Express under Experts Explain Section, titled "What it will take to fulfill India's solar power dream", written by Prof. Ashish Garg and Prof. Rajeev Jindal. Read Article
---
Chandrakanta Kesavan Lecture Series
Chandrakanta Kesavan Lecture Series
---
Lecture Series 9
Dr. Ram Ramaswamy, Director of NOAA Oceanic and Atmospheric Research's Geophysical Fluid Dynamics Laboratory (GFDL)
Title:" Climate Change: Lessons from the Past for the Future Temperature and Hydrologic Impacts "
17th March 2023 (Friday), 12:00 PM, DJ-306 (Diamond Jubilee). Poster Link

---
Lecture Series 8
Mr. Rajendra Bhattarai, President of Clean Water Strategies, Austin, Texas
Title:" Austin's 100-Year Water Plan: Resilient, Reliable, and Sustainable to Address the Effects of Climate Change "
10th February 2023 (Friday), 05:00 PM, DJ-306 (Diamond Jubilee). Poster Link
---
Lecture Series 7
Dr. Kuntala Lahiri-Dutt , Professor, Crawford School of Public Policy, Australian National University
Title:" In search of justice in coal transition in India "
10th February 2023 (Friday), 01:00 PM, Online. Poster Link
---
---
India-UK Symposium on "Sustainability: Addressing Water-Energy-Food nexus [Sustain-WEF]" on 17-19 April 2023, Outreach, IIT Kanpur.
Workshop Poster | Website Link
---
One-day symposium on "Demystifying UNFCCC Conference of Parties (CoP) - International Negotiations vs Local Climate Action" on 02 March 2023 at L-13, Lecture Hall Complex, IIT Kanpur.
Workshop Poster | Website Link | Event Picture Link | Presentation Link
---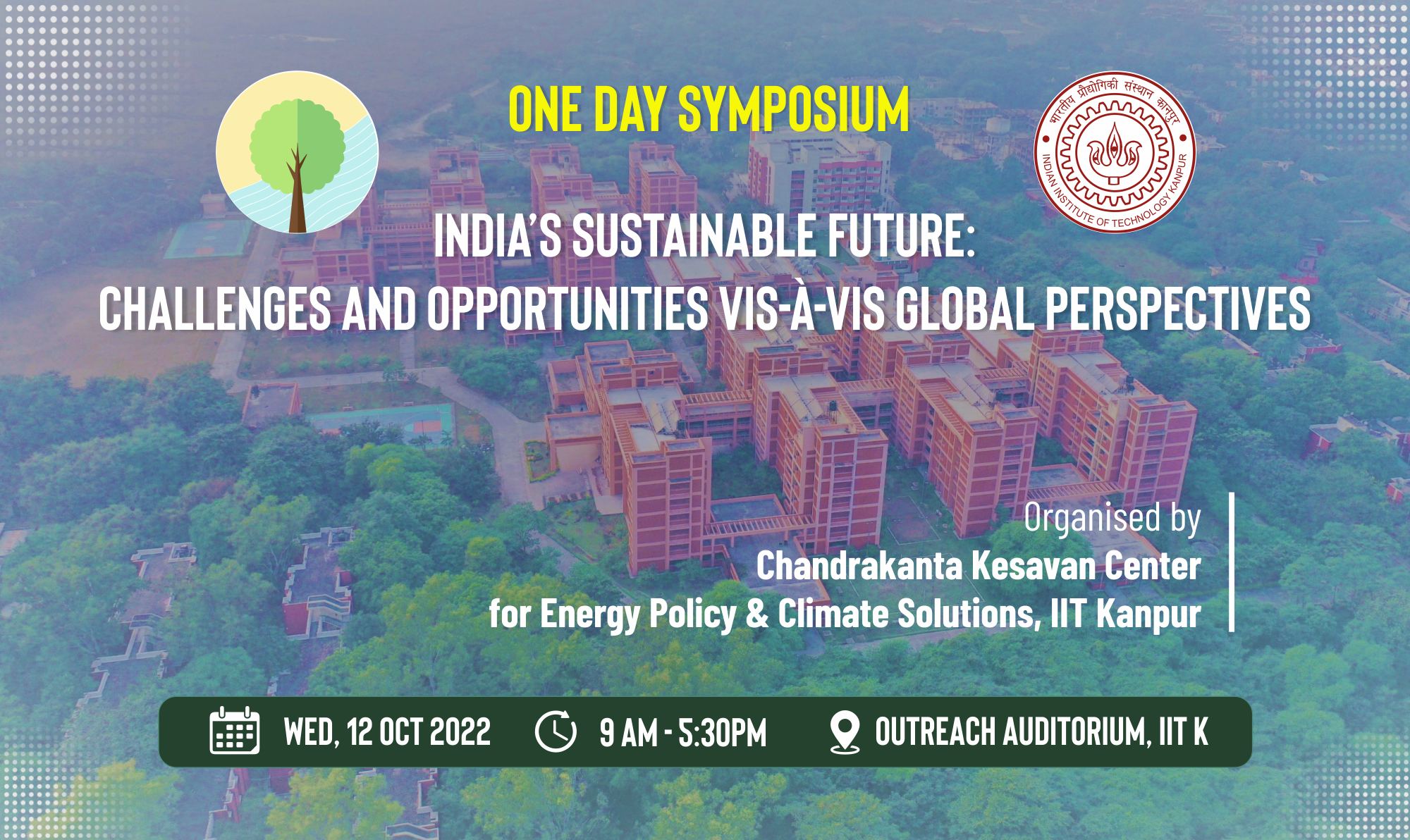 One-day symposium on "India's Sustainable Future: Challenges and Opportunities vis-à-vis Global Perspectives" on 12 October 2022 at Outreach Auditorium IIT Kanpur.
Workshop Poster | Website Link
---
Publications
Publications
---
Vishwa Deepak Kumar, Laltu Chandra, Sudipto Mukhopadhyay, Rajiv Shekhar, Simulated Experimental Assessment of a Laboratory-Scale Solar Convective Furnace System, (2022).
---
Kewal Singh, Anoop Singh, Puneet Prakash, Estimating the cost of equity for the regulated energy and infrastructure sectors in India, "Utilities Policy", Vol. 74, Kewal Singh, Anoop Singh, Puneet Prakash, Estimating the cost of equity for the regulated energy and infrastructure sectors in India, "Utilities Policy", Vol. 74, February 2022, 101327. Publication Link

---
Swarnakar Pradip, Rajshri Shukla, and Jeffrey Broadbent 2021. "Beliefs and Networks: Mapping the Indian Climate Policy Discourse Surrounding the Paris Climate Change Conference in 2015." Environmental Communication 19.
Website Link

---