Accessing Your eLearning Content via IP
2. In the top right corner, click Sign In.

3. Your institution's IP address will automatically be recognized by ILN. You will see a message at the top of the screen that says "Access provided by: Your Institution's Name."
4. Beneath that message, you will see the Personal Sign In screen. Submit your IEEE personal account credentials.
NOTE: If you do not yet have an IEEE Personal Account, click Create Account. Complete the required fields.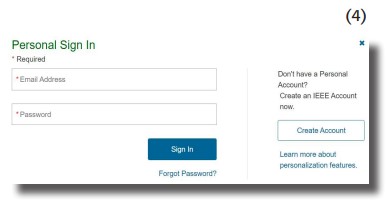 5. You are now signed in with both individual and institutional credentials. Click Continue to IEEE Learning Network.
6. You are now on the ILN homepage. You can find content through the Included In My Institution's Subscription portlet on the homepage.

7. Once on a course page, scroll to the bottom and click Open Item to launch the course.

8. The course player will launch. Use the buttons at the bottom of the player to navigate through the course.
9. You may follow your course status from the Transcript (top of any ILN page). After completing the course requirements, including the course survey, access your Certificate either on the course page itself or from the Transcript.