Future career prospects:
The economics alumni have done extremely well in all aspects including higher studies, corporate placements and government jobs.
Higher studies
Many economics students have secured fully funded Ph.D. positions in some of the most prestigious universities/institutions across the world. A partial list of names include University of Michigan Ann Arbor, Cornell University, University of California San Diego, University of California Irvine, University of Wisconsin-Madison, University of Toronto, Tilburg University and University of Illinois at Urbana Champaign.
A far higher number of economics students have gone on to pursue Masters' degree in places like MIT Sloan School of Management, Booth School of Business, Yale University, University of Columbia, London School of Economics, London Business School, Washington University and Barcelona Graduate School of Economics.
Economics students have also been awarded summer research fellowships through several prestigious programs including MITACS, DAAD-WISE, University of Queensland Research Program and Indian Academy of Sciences. Besides, students have also been offered academic internships during their undergraduate curriculum in universities like ETH Zurich, Technion – Israel Institute of Technology, Virginia Tech, University of Milano, Michigan State University, University of Erlangen-Nuremberg, IIM Bangalore, and Indian School of Business.
Job opportunities in Private Sector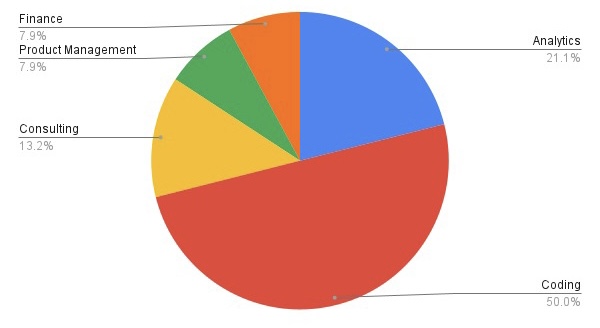 Our students have consistently performed very well in campus placements. Over the years 2019-21, the success rate for those seeking placements has been between 78% and 93%, and each year this figure has exceeded the average across departments in IIT Kanpur. The average CTC over 2019-21 has varied from 15-24 LPA.

Some of the companies that students have joined are Accenture, American Express, Boston Consulting Group, Deutsche Bank, Edelweiss, EXL Service, Goldman Sachs, ICICI Bank, JP Morgan Chase & Co., Mastercard, McKinsey & Company, Merill Lynch, PwC DIAC, Walmart, Wells Fargo and Wipro.

A sector wise distribution of placements in the 2021 placement season is depicted in the accompanying pie chart.
Government Jobs and Civil Services
Without any iota of doubt, having an economics background definitely gives an edge for some Civil Services Examination. For instance, the Indian Economic Service (IES) conducted by the Union Public Service Commission (UPSC) is an excellent choice for economics enthusiasts. An alumnus of the 2015 batch, Arjun Gupta, secured Rank 1 in this exam in 2022. Students also take the Indian Civil Services Examination opting for Economics as one of the subjects. An alumna of Economics, Tejasvi Rana, secured All India Rank 12 in the Civil Services Examination 2016. Another alumna, Shreya Shree, secured rank 71 in the same examination in 2022. Adding to the achievements, one of our alumni is currently Deputy Director at Ministry of Finance, Government of India.