IIT Kanpur Sustainability Report
---
Indian Institute of Technology, Kanpur, established in 1959, is one of the premier institutions established by the Government of India. The aim of the Institute is to provide meaningful education, conduct original research of the highest standard and provide leadership in technological innovation.

IIT-Kanpur is located on the Grand Trunk Road, 15 km west of Kanpur City and measures close to 420 hectares. The Institute has a sprawling residential campus with more than 4,500 undergraduate, 2,000 postgraduate and 2,100 PhD students, 550+ faculty and 1,000+ supporting staff. The residential campus is planned and landscaped with the hope of environmental freedom. Halls of residence, faculty and staff houses and community buildings surround the central academic area to provide flexibility in movement and communication.

At IIT Kanpur, we recognise the urgent challenges posed by climate change and environmental degradation, and we firmly believe that universities must take a leading role in addressing these pressing issues.

The Sustainability Report 2023 exemplifies the collective efforts of our faculty, researchers, students, and staff, pursuing pioneering research and innovative solutions in various sustainability-related domains. From developing cutting-edge sustainable technologies to advocating for responsible waste management practices, these endeavours showcase our unwavering commitment to positively impacting society and the planet. We are committing all our resources to making our campus a "Carbon Neutral" campus by 2030.
---
---
Sustainability Cell: The Sustainability Cell, founded in early 2023, is an independent student body mentored by the Department of Sustainable Energy Engineering and supported by the Chandrakanta Kesavan Centre for Energy Policy and Climate Solutions. The primary aim of the cell is to work in close collaboration with the institute's administration and the campus residents to make the campus & beyond more sustainable and healthier to live, study & work in.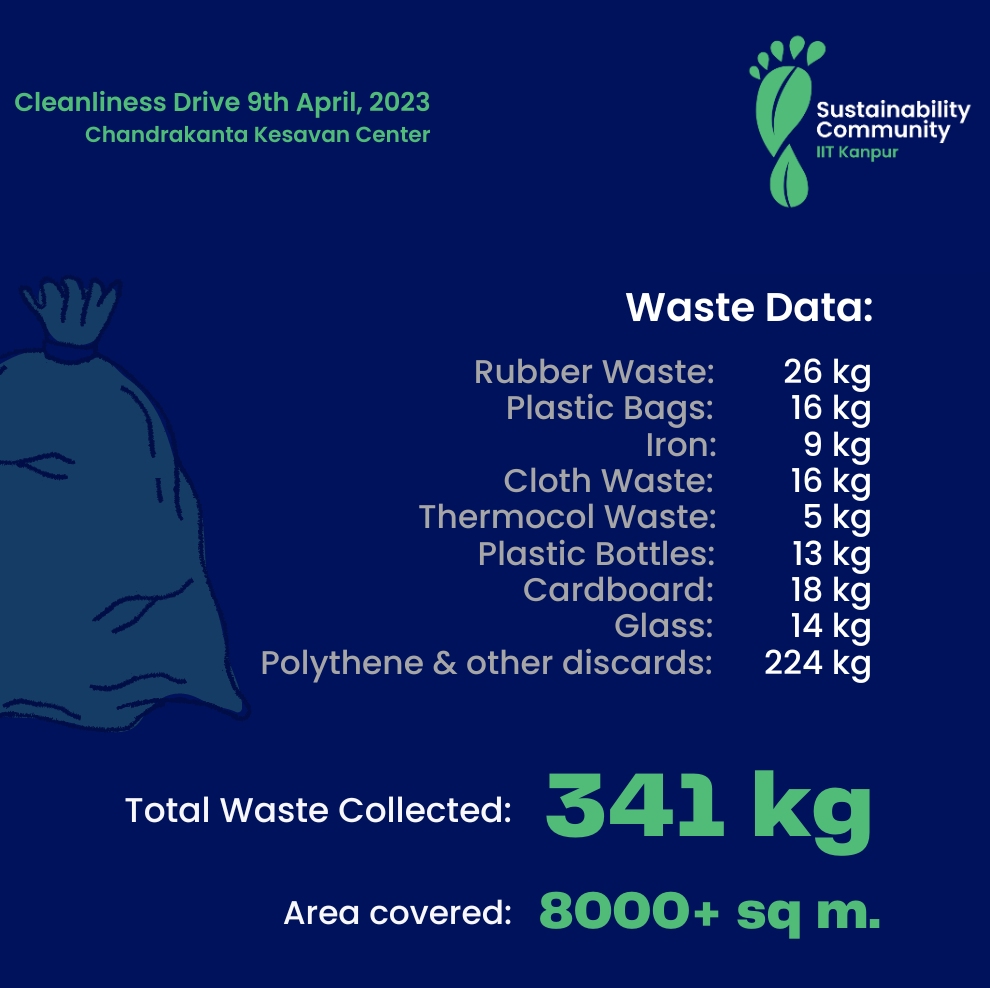 Cleanliness Drive: The sustainability cell conducted a cleanliness drive on campus to mark the importance of keeping our surroundings clean and undertaking sustainable practices in our daily lives. We collected 341kg of solid non-biodegradable waste from 3 different zones covering an area of 8000+ sq m.