Welcome Message from Group Leader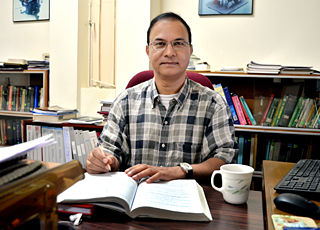 Ramesh C. Budhani received his Ph.D. degree in Physics from the Indian Institute of Technology Delhi. This was followed by four years of research at the University of California Los Angeles, first as a post-doctoral fellow and then as member of the research faculty. He moved to Brookhaven National Laboratory New York in 1988 and worked there as a staff scientist till 1994, and then joined the Indian Institute of Technology Kanpur Physics Faculty. In the year 2009, he took over the responsibility of the National Physical Laboratory - India as its Director under the terms of Foreign Service Rules of IIT Kanpur for a period of five years. He completed the term on Dec. 10, 2014 and rejoined IIT Kanpur as professor of physics.
Prof. Budhani has been a visiting professor at the University of Maryland College Park, USA, Joliot Fellow of ESPCI Paris, visiting scholar at University of Kentucky and Guest Scientist at BNL and Laboratoire de Cristallographie et Sciences des Materiaux, Caen France. He represents India as a member of the IUPAP Commission C2, and has also been a member of the Editorial Board of Pramana, the Indian Journal of Physics, and presently serves as an Editor of the Journal of Magnetism and Magnetic Materials and as Associate Editor of the European Journal of Applied Physics. He is a Fellow of the American Physical Society, Indian Academy of Sciences, the National Academy of Sciences and the Indian National Science Academy (INSA) New Delhi. He is also the recipient of the Distinguish Alumni Award of the Indian Institute of Technology Delhi for the Year 2012 and the J C Bose National Fellowship of the Govt. of India. His primary research interests are in the areas of superconductivity and magnetism in low dimensional systems and doped metal oxides.
Prof. R. C. Budhani
Department of Physics
Indian Institute of Technology, Kanpur
Email: rcb[AT]iitk.ac.in
Phone: +91-512-2597185
Fax: +91-512-2590914

Former Director
National Physical Laboratory
New Delhi 110012