Scanning Electron Microscopy Facility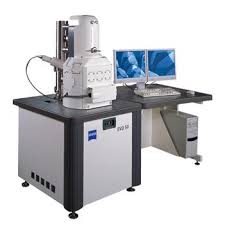 About instrument (Carl Zeiss EVO 50)
Scanning Electron Microscope is a versatile analytical microscope with a large specimen chamber and can handle large specimens at the analytical working distance of 8.5mm owing to a combination of the inclined detectors and the sharp conical objective lens.
ENERGY DISPERSIVE X-RAY MICROANALYSIS
Microstructures at SEM can be analyzed for its elemental composition in more detail using EDX system. This is a non-destructive analysis and the elements and their concentration in the sample can be determined reasonably accurately. EDS (EDX) Analysis provides elemental/Phase composition analysis of a sample inside a SEM. Also microstructural analysis i.e. EBSD (Electron BackScatter Diffraction Analysis) can be done to characterize grain structures. INCA and AZtec from Oxford is a new and revolutionary materials characterization system that gathers accurate data at the micro- and nanoscales
Essential Specification: EVO 50
Resolution

2.0nm@ 30kV

Acceleration Voltage

0.2 to 30 kV

Magnification

5x to 1,000,000x

Field of View

8.5 mm at the Analytical Working Distance (AWD)

X-ray Analysis

8.5 mm AWD and 35° take-off angle

Detectors

SE in HV - Everhart-Thornley

BSD in all modes - quadrant semiconductor diode
Some salient features of EDX analysis of known or unknown materials
Qualitative and quantitative analysis for all elements from carbon upwards in the periodic table
Quantitative analysis of homogenous bulk materials having features = 2 µm
Qualitative analysis of features = 0.2 µm
Detection limits typically 0.1 – 100 Wt% for most elements
Multi-element X-ray mapping and line scans Particle analysis – Detection, analysis, morphology and size.


---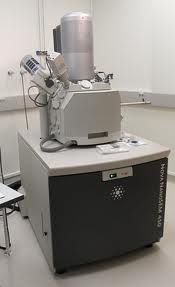 About instrument (Nova NanoSEM 450)
The Nova NanoSEM is a field-emission scanning electron microscope (FE-SEM), which attains ultra-high imaging resolution. The NanoSEM Schottky field-emission source allows the user to achieve high imaging resolution at a range of 0.2-30 kV, at both low (high-resolution imaging) and high (micro analytical imaging) currents. Secondary electron (SE) imaging can be undertaken in both field-free and immersion mode for comprehensive low-to-high resolution imaging of a variety of samples. The Nova NanoSEM is configured with a Bruker SDD-EDS detector and can be manually fitted with a backscattered electron detector for the convenient visualization of compositional differences across the specimen surface
Resolution

1.0nm@ 30kV

Acceleration Voltage

0.2 to 30 kV

Magnification

5x to 1,000,000x with HR/UHR Mode

Field of View

5.0 mm at the Analytical Working Distance (AWD)

X-ray Analysis

5.0 mm AWD and 35° take-off angle

Detectors

In-lens SE detector (TLD-SE)

In-lens BSE detector (TLD-BSE)

Everhardt-Thornley SED

Low vacuum SED (LVD)

High sensitivity low kV Directional Backscattered Detector (DBS),

BSD in all modes - quadrant semiconductor diode
Contact Details