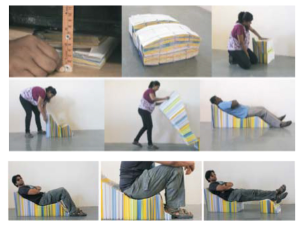 Indian Patent Applicaton No:
Overview:
Two Way Volume Adjustable Load Bearing Foldable unit pliable material for making furniture
Key Features:
Load bearing light weight structure along with the property of volume adjustability in two dimension, collapsible, local expansion and contraction, porosity and deployable in nature.
Substantially made of paper along with use of adhesive for interlinking.
The innovation amplifies the strength of pliable material through folds.
Shape of the furniture can be reconfigured without permanent deformation.
Applications:
Light-weight space-saving ergonomic furniture for people on move, home and offices.
Can be used for heat dissipation with minimal surface contact.