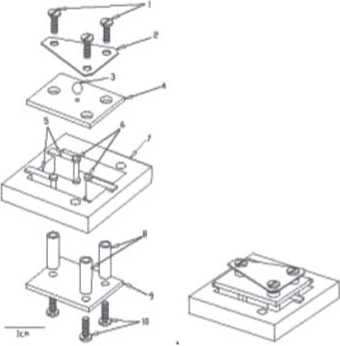 Indian Patent Applicaton No:
Inventors Name:
Mr. Reetesh Kr. Singh
Mr. Rajiv Shankar Sinha
Overview:
Two dimensional electromechanical positioning of samples of the order of nano meters.
Key Features:
Bimorph is used to achieve planar two-dimensional motion.
The Nano-positioner is specially designed to precisely position samples under high resolution microscopes.
No mechanical access is required to operate this device.
Resolution of positioner is 50 nano meters in both X & Y directions.
Nano-positioner's span area is lcmX lcm.
This device is quite compact in size [2.5cmx2.5cmxlcm] and ultra light weight (less than 30 grams).
Applications:
It can be used in vacuum, at cryogenic temperatures in various applications like optical microscope, SPM, SEM, FIB, fiber positioned in optics.
The device can be used in high magnetic fields and temperature range of operation is -270 °C to 45 °C.