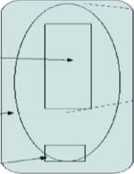 Indian Patent Applicaton No:
Inventors Name:
Overview:
The energy for the RF contactless smartcard reader is provided by an optical source in the reader.
Key Features:
The optical source on the reader activated by bringing the smart card near it.
Optical source from reader will transfer power to the photovoltaic chips on the smart card during smart card usage such as identity verification, registering usage, activating sensors and the like.
Applications:
RF power may be limited to only communication applications and not for computation within the smart card.
With higher power availability from the optical source, more sophisticated functionality may be built into the smart card.
The contact-less transfer of power makes the smart card operation more robust.