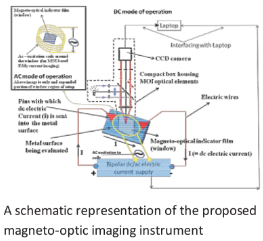 Indian Patent Applicaton No:
International Patent No. Date:
Inventors Name:
Mr. Shyam Mohan
Mr. Jaivardhan Sinha
Overview:
Portable high sensitivity magneto-optical imaging instrument working on a principle of imaging self magnetic fields generated from electric currents,enables the imaging of regions in a metal surface with microscopic structural damage and also locations predisposed to developing structural damage.
Key Features:
The invention works on the principle of high sensitive detection ofweakfaraday rotation of linearly polarized light of weak magnetic fields generated from dc currents sent through a metallic surface.
Non-uniformity of the current density in the specimen surface is associated with regions with defect and/or structural damage.
The instrument has an unique dual mode operation capability, viz., can operate in a direct current (DC] mode as well as in an Alternating current (AC) mode.
Applications:
Any industry which needs non destructive evaluation of structural damage in metal structures e.g., aviation industry, automobile industry, military industiy, etc.