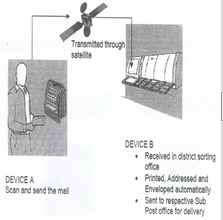 Indian Patent Applicaton No:
Overview:
A system and method for secure and fast mail transmission from first location to a second location
Key Features:
The devices are enabled to transmit/receive data including textual and digital data, and being interconnected via respective wireless devices to a satellite network.
Each of the devices comprises a scanner, a bar code reader or a magnetic strip reader, a memory to store data, a display screen, a printer, a power unit, an audio recorder and software means incorporating instructions.
Each of the device is enabled to operate in a transaction mode and/or a reception mode.
Cost effective, reduction in transit time of the mails, fast, secure and easy to operate.
Applications:
Transfer of financial instruments
Transmission of colour data and images
Export of technologies, products, and process. etc