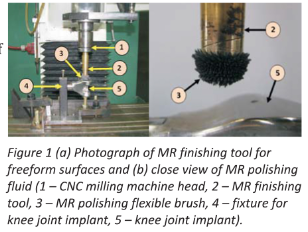 Indian Patent Applicaton No:
Inventors Name:
Dr. V K Suri
Mr. Ajay Sidpara
Overview:
An apparatus and method for nanofinishing of complex and freeform surfaces.
Key Features:
The finishing device is based on magnetorheological fluid.
 A step-wise finishing is proposed to achieve nanofinishing on hard materials in minimum possible time.
 A chemical based magnetorheological fluid is formulated to significantly reduce the surface roughness value.The developed technology does not destroy the form geometry of the component to be finished.
It utilizes flexible magnetorheological fluid brush which is self deformable.
Applications:
Medical implants.
Freeform optics.
Dies and molds.