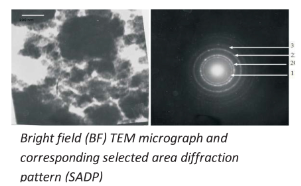 Indian Patent Applicaton No:
Overview:
Nanocrystalline titanium carbide [TiC) powders are synthesized from corresponding elemental constituent powders by reaction milling in a specially designed dual drive planetary mill at room temperature with any prior and post heat treatment.
Key Features:
Percentage yield of titanium carbide is significantly more in lesser milling time.
Room temperature synthesis [no external heating source is required].
Ultra-fine nanostructured powders can be prepared, (<10 micron).
No atmosphere control during synthesis is required.
Process is economical,time efficient and scalable.
This syntesis process co-friendly.
Applications:
The material is extremely hard and can be used as good coating material for scratch proof and wear resistant coatings.
Potential coating material for coatings on tungsten carbide cutting tools.