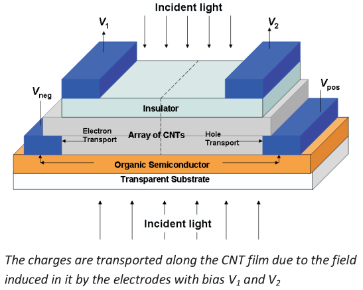 Indian Patent Applicaton No:
Inventors Name:
Mr. Arun Tej Mallajosyulla
Overview:
An organic solar cell where the excitons are created in an organic semiconductor, but an electrostatically doped carbon nanotube film transports the charge carriers orthogonal to the
Key Features:
The exciton is created in the organic layer in the organic solar cells.
The charge transport can take place in the carbon nanotube film.
Built-in field created by 'electrostatic doping' of carbon nanotubes.
Applications:
A photovoltaic cell and a photo-detector.
Organic semiconductor films exhibiting high absorption in solar spectrum but with poor electrical conductivity may be used to build solar cells with this device architecture.
Improved charge transport by the CNT film inorganic solar cells can be achieved.