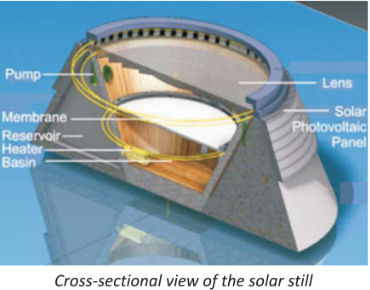 Indian Patent Applicaton No:
Inventors Name:
Mr. Ankit Anand
Mr. Arihant Bhandari
Mr Shivam Prakash
Mr. Manoj Sharma
Overview:
Water purification system using an enhanced solar still to provide potable water throughout the day from impure water.
Key Features:
Fresnel lens to concentrate light in a solar still making it less sensitive to the position of the sun.
The use of hydrophobic membranes to increase the evaporation rate.
Air pumps to convey water vapor into reservoirs and avoid inclining the condensing wall.
Solar photovoltaic system to support peripherals and enable 24 hour operation.
An overall buoyant device that can float on water and form a large-area network.
Being solar based, operating costs are low as compared to reserve osmosis, UV radiation, and ultra filtration.
Applications:
Treatment of waste water from tanneries, agriculture, and impure water from mines.
Useful in dry barren areas with low population density.
Will be attractive to the Navy and ISRO.
Can be adopted under the corporate social responsibility programs of various companies.