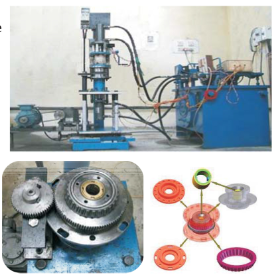 Indian Patent Applicaton No:
Overview:
Nano finishing process for complex surfaces made of advanced materials.
Key Features:
Design and development of Universal Rotational Abrasive Flow Finishing Process.
Development of rotational tooling to improve the finishing rate.
Comparative study of Abrasive Flow Finishing [AFF] and UR-AFF.
Workpiece rotational speed imparts the Rotational.
The cylinder tubes made of hard steel also finished using UR-AFF process and this process greatly improves the form geometry along with surface finish.
Applications:
Medical applications: Nano finishing of biological implants (knee joint, hip joint, heart valves, etc.
Automobile applications: Finishing of fuel injector nozzles, Engine cylinders.
Die industry: Can finish any complicated shapes of extrusion dies.