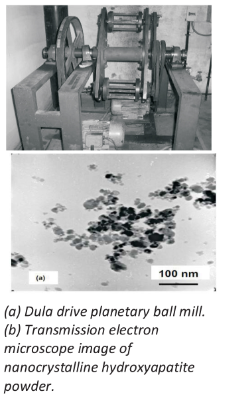 Indian Patent Applicaton No:
Overview:
An efficient, inexpensive, low temperature and scalable process for synthesis of nanocrystalline hydroxyapatite through mechano-chemical root.
Key Features:
The reaction milling process is carried out in single step.
The synthesis of nanocrystalline hydroxyapatite uses calcium hydroxide as calcium source powder and phosphorous pentoxide as phosphorous source powder.
No external heat is applied during the process of reaction milling.
The reaction milling time for the synthesis of nanocrystalline hydroxyapatite is 1 hour.
The stoichiometric ratio of calcium hydroxide powder and phosphorous pentoxide powder is 1.74: 1
Yield of hydroxyapatite is 99 %.,no post milling treatment is necessary, average particle size is 50 nm or less can be obtained and phase control is achieved with relative ease.
Applications:
Nanocrystalline hydroxyapatite can be used as a bone substitute material.
It can be used for drug delivery system.
It can be used as a medicine for calcium source.