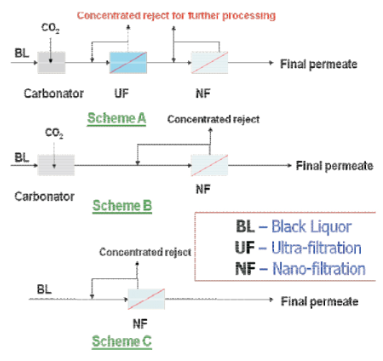 Indian Patent Applicaton No:
Inventors Name:
Overview:
A novel process for Kraft Black Liquor recovers clear water and rich inorganic chemicals while obtaining alkali lignin as separate stream.
Key Features:
Process for the recovery of inorganic sodium compounds from the Kraft Black Liquor which comprises the following steps :

Pressure Carbonation of Kraft Black Liquor by treatment with carbon dioxide.
The resultant solution is treated by an open Ultrafiltration (UF) membrane in cross flow geometry at a low pressure to separate higher molecular weight fractions of Lignin in the Kraft Black Liquor.
The permeate of the UF is then subjected to Nanofiltration (NF) which rejects almost all the organic molecules and passes water along with inorganic compounds which are mainly sodium carbonate salt.
Applications:
The paper industries following either the Kraft pulping, or soda pulping, or sulphite pulping (acidic, basic as well as based on neutral pH levels) may adopt the developed three-step process