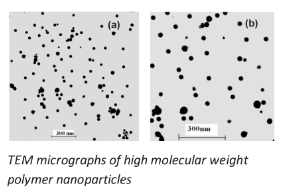 Indian Patent Applicaton No:
Inventors Name:
Mr. Prabhat K. Agnihotri
Mr. Sanjay Dasgupta
Overview:
Preparation of high molecular weight nanosized polystyrene, polypropylene and polyethylene. It focuses on multi component polymer system as a means of producing new material on the nanometer scale.
Key Features:
The particle size for polyethylene , polypropylene and polystyrene is 40 to 250, 25 to 200 and 10 to 50 nanometer respectively.
The size of the polymers is in the nano range inspite of its high molecular weight
This technique is based on the control of thermodynamic parameters. Don't need any surfactant, emulsifier, etc used in microemulsion process and cryogenic apparatus in other process.
Yield of the process is very good (90 %)
Applications:
Polymer blends or alloys,
Polymer powder spray coating,
Polymer supported heterogenous catalysis
Electo-optics and luminescent devices.