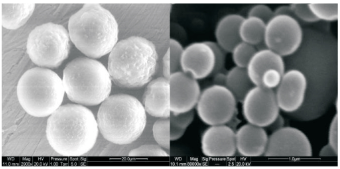 Indian Patent Applicaton No:
Overview:
The invention the preparation of high molecular weight micron sized polymers (Mw~lxl05'):
Key Features:
Spherical particle.
Better crystallinity.
Better modulus.
98% yield.
Applications:
The uses of polymer microparticles includes:
The creation of nanostructured materials using lithographic technique.
Fabrication of nanoscale devices for sensing the electrical and fluorescence properties.
Production of nanoscale arrays for electronic, and optoelectronic devices.
membrane filters with controlled pore sizes.
Well defined layers in blends.
Polymer particles having metallic coating used for passive damping and energy-absorption systems.
Flip chip packing application, etc.