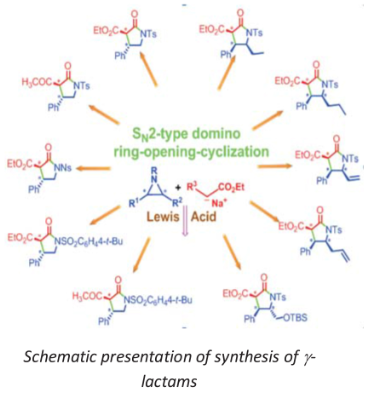 Indian Patent Applicaton No:
Overview:
Process for synthesis of biologically important Y-lactams.
Key Features:
Present patent describes an efficient process for synthesis of chiral Y-lactams from reaction of aziridines and active methylene carbon nucleophiles.
The reaction utilizes starting materials which are either commercially available or can be easily synthesized in easy no. of steps.
This patent describes a process where enantiomerically and diastereomerically pure Y-lactams can be synthesised in a single step.
Reaction avoids use of any hazardous or toxic material.
Applications:
Several drugs based on chiral GABA scaffold (e.g. Pregabalin (Lyrica).
Functional core of various drugs.
This method can be used for synthesis of a large no. of drug like molecules having Y-lactam or GABA core.