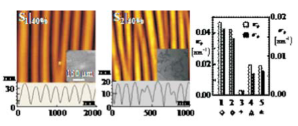 Indian Patent Applicaton No:
Inventors Name:
Dr. Anindita Sengupta Ghatak
Overview:
A process for generation of novel nano-wrinkled patterned surfaces useful for a variety of phase transition operations e.g. controlled crystallization of small/macromolecules, condensation and boiling.
Key Features:
A simple, cost effective method for generating nano-wrinkle pattern on soft substrates.
This process generates wrinkles having both large curvature, as large as 0.2 nm-1 and large distribution in curvature.
The substrates are useful for heterogeneous nucleation, therefore, allow crystallization of protein molecules at low concentration in solution.
The patterns are generated on environmentally benign substrates, e.g. polyfdimethylsiloxane] (PDMS), rubbers or soft gels.
Applications:
Crystallization of small molecules and macromolecules, boiling, condensation etc in which heterogeneous nucleation plays an important role.
Facilitate screening of specific conditions for yet to be crystallized proteins and other types of molecules. Thus these substrates can be used as universal nucleant.