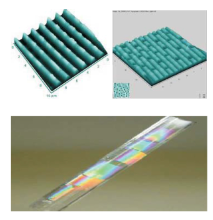 Indian Patent Applicaton No:
Inventors Name:
Mr. R.Mukharjee
Mr. D.Faruqi
Mr. Ganesh Patil
Overview:
Method for creating micro and sub micro sized physical relief patterns on soft solid surface layers at room temperature by pressure-less imprint method, where the deformation on the soft solid surface is predominantly elastic in nature.
Key Features:
Direct patterning in solid state.
Deformation of the soft solid surface layer in conformal contact with the stamp leading to the pattern transfer is predominantly elastic in nature.
Use of a flexible patterned foil as the stamp for patterning, allowing excellent pressure less conformal contact and high fidelity pattern transfer.
No application of uniform external pressure for pattern transfer.
Possible to generate two dimensional ordered patterns by multiple imprinting.
Applications:
Micro patterning of polymer surfaces for electronic and biomedical applications.
MEMS-Based Micro fuel cell systems for portable power applications.
Surfaces for nanobiotechnology applications like bio sensors, drug delivery etc.