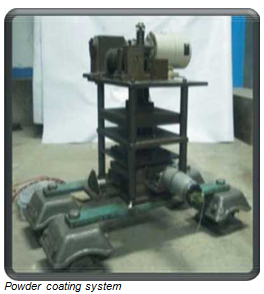 Indian Patent Applicaton No:
Inventors Name:
Mr. Tapendu Mandat
Mr. Prem Prakash
Overview:
A new machine"STAMPCOAT" has been developed of corrosion and wear resistant powder coating.
Key Features:
Minimization of shear force during milling process, which prevents the chipping off of the substrate material and/or coating from the surface.
It presents an alternate way of applying coatings of bulk metallic glasses and nanocrystalline materials on metallic substrates.
Corrosion and wear resistant powder coating is obtained.
Large cross-sectional area of uniform strength can be coated.
Process can be used for continuous coatings.
Only flat surface can be coated.
Applications:
Powder Coating Industries.
Automobile industries.