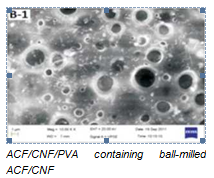 Indian Patent Applicaton No:
Overview:
A method for the in-situ dispersion of the carbon micro-nanofibers within a polymeric nanocomposite material (PVA) for improving its mechanical strength, ionic conductivity, hydrophillicity, and thermal stability for the Li-ion battery separator material.
Key Features:
A novel nanocomposite material consisting of activated carbon fibers (ACFs)/carbon nanofibres (CNFs)/ polyvinyl alcohol (PVA) is developed as a separator for lithium ion battery.
The tensile strength of the material increased three-times in comparison to that of PVA.
Drastically improves performance in battery separator applications.
Applications:
ACF/CNF Composite membrane for fuel cell applications.
ACF/CNF reinforced membrane used for separation and purification.
Nano composite material used as a lithium and battery separator.
Reinforcement of Gel battery electrolyte with the hierarchical web of carbon micro and nano fibres for increasing battery life cycle.