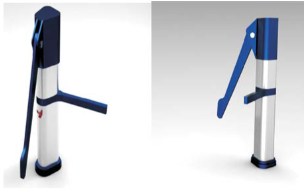 Indian Patent Applicaton No:
Inventors Name:
Ms. Shanu Sharma
Mr. Aravind Shanmuga Sundaram M
Overview:
A versatile tube-well hand pump with energy harvested water filtration.
Key Features:
A versatile tube -well hand pump that filters and purifies the water without using any electricity
It has two options to enable/disable filtration by using a by-pass mode.
It also provided limited illumination around the tube-well area in the night time
The inbuilt energy harvester can generate energy required for water filtration & purification
It has networked water quality monitoring system.
Applications:
A versatile hand pump for semi-urban and rural population of India to provide safe potable water for healthy life.