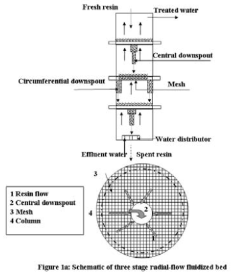 Indian Patent Applicaton No:
Overview:
A new type of liquid-solid (L-S) multi-stage contactor is designed and developed.
Key Features:
The unique aspect of the invention is the configuration of different types of downspout between two successive stages in the column, one around the outer periphery of the stage and the other at the center of the stage, resulting in much more uniform mixing between the two phases flowing counter currently in the present design than in the conventional stage-wise contactor is claimed and relatively larger mass transfer rate resulting in fewer number of stages.
Applications:
Recovery of protein from biofluids using solid adsorbents.
De-nitrification of liquid enriched with nitrogenous ions using solid resin particles.
Adsorption of fluoride ions from waste water by solid zeolite particles.
The recovery of precious metals from the slurry.