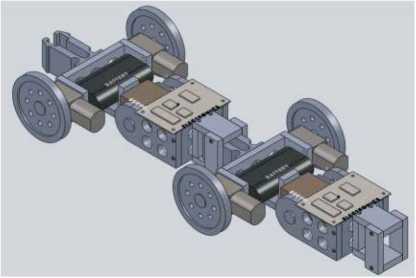 Indian Patent Applicaton No:
Overview:
Concept of reconfigurable modular robots, i.e., machines with variable morphology and which comprise of several identical modules.
Key Features:
The crux of the project has been the design of the gripping + locking mechanism.
The modules have a dual purpose gripper mechanism installed on them, which can either be used for locking and unlocking with other modules on requirement, as well as for tasks like rope climbing and fetching.
Different modules can increase or decrease their functionality, for example degree of freedom
The design using SMA (shape memoiy alloy) wires is completely innovative but extremely simple.
To keep it light weight the chasis has been made by removing material by drilling several holes. Weight of each chasis was reduced by 20%.
Applications:
Robotic manipulator used in various industries
In areas of defense and security, search and surveillance, disaster management, and so on.