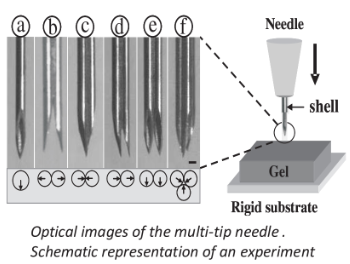 Indian Patent Applicaton No:
Overview:
Design of a "multi-tip" syringe needle consisting of a cylindrical shell fitted with several closely spaced needle tips at desired orientations.
Key Features:
The needle consists of a hollow cylindrical portion which connects at one end to a syringe, the other end remains fitted with a set of closely packed tips.
The tips can be straight, completely or partially conical or differently shaped and can be two, three or more in number.
When constituent tips are widely separated, the puncturing load increases linearly with the (number of tips].
It cause significantly less trauma during tissue puncture for variety of medical applications.
Applications:
Bio-medical applications: drug delivery, blood sampling, tissue suturing and biopsy.
The needle will be useful for multitasking operations.