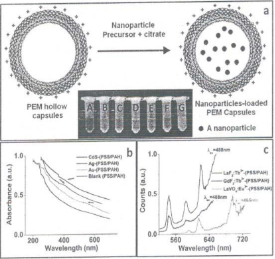 Indian Patent Applicaton No:
Overview:
A general and versatile approach to prepare nanoparticles-loaded polymers capsules.
Key Features:
The nanoparticles wer prepared by templating polymer capsules as micro/nano reactors.
These nanoparticles-loaded capsules will act as bioimaging agents (optical/MRI contrast agents] as well as drug delivery vehicles.
The reactive group (-NH2, -COOH and etc.] on the polymer can easily functionalized for targeted bioapplications.
A wide range of emission lines (450-1650 nm] can be achieved by doping with selected lanthanides.
Applications:
Pharmaceutical companies.
MRI imaging applications.