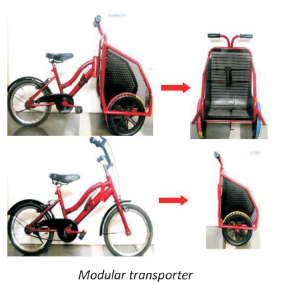 Indian Patent Applicaton No:
Overview:
A novel product has been developed where in the concept of modularity is integrated with bicycle (personalized bike) to suit the needs vendors at township, Institute campus, shop floors and various applications.
Key Features:
A Vehicle consist of three wheels, where in 2 are connected parallel in same horizontal axis and incorporated with a load carrier, handle for balancing and support the structure.
And the joinery used for attaching and detaching the carrier is simple and easier in functioning.
Options are given to the user to convert the pay loader into a normal bicycle for easy personalized biking.
The detachable sub assembly can be specified according to the user application.
Applications:
A personal transportation device which could be transformed into a payload vehicle.