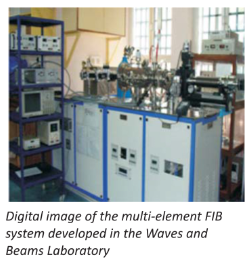 Indian Patent Applicaton No:
Overview:
Versatile multielement focused ion beam system that utilizes intense collimated microwave plasma.
Key Features:
The system consists of a plasma production region, a beam extraction and focusing column, and an experimental region where the focused ion beams are made to impinge on a substrate.
Plasma confinement using.
minimum B multicusp magnetic field facilitate uniform, unmagnetized axial plasma in the central region from where the beams are extracted.
This is the first system in the world that utilizes microwave plasma and offers advantages both in terms of higher plasma densities, lower ion energy spread and plasma stability.
Expected to increase the range of applications in nanoscale milling, implantation, creation of nanopores, etc, by having the provision of focused ion beams of a variety of elements.
Applications:
Useful in all nanoscience and technology laboratories including industries where the application of submicron to nanofocused ion beams of a variety of elements are required