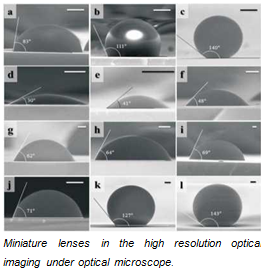 Overview:
In this invention, we demonstrate a versatile method of fabricating tunable sub-micrometer size spherical lenses and lens arrays by dewetting ultrathin (< 100 nm) polymer films at room temperature.
Key Features:
The lens-size is continuously tunable from 100 nm to few tens of micrometers with spherical shapes of contact angles ranging from 30 - 150°.
The technique proposed here induces a room temperature dewetting of polymer thin films under an optimal mix of water, acetone and methyl-ethyl ketone (MEK).
This technique can be extended to several thermoplastic polymers such as polystyrene,polyacrylates, polymethacrylates, poly(vinyl ethers), polybutadiene (not cross-linked) etc. to cover whole range of desired optical properties.
Applications:
Nano-imaging and Bioimaging in diagnostics and biosensing.
Optical nanolithography, especially at sub-wavelength scale.
Quantum computing, quantum communication and optical networking.