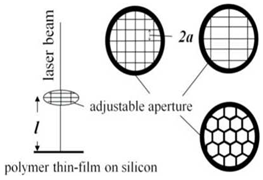 Inventors Name:
Mr. Ankur Verma (Student)
G U Kulkarni, (JNCASR)
Overview:
Demonstration of an ultrafast method of beyond-the-master patterning of thin polymer films using diffraction of a single pulse of nanosecond laser.
Key Features:
The patterns generated by this method have interesting and unique characteristics compared to other lithography and self-organization-based methods -
The patterns are in the form of an open latticework structure consisting of fine lines with line-widths one to two orders of magnitude smaller than the mask openings.
The pattern geometry is far more complex than the mask geometry.
Both the pattern length scales and morphology can be modulated by changing the film thickness.
In a single laser shot some very regularly shaped enclosures of thin raised lines can be fabricated that may be useful for microarray applications.
Applications:
Micro fluidics.
Microarray applications (eg. Molecular biology].
Nano-imaging and Bioimaging in diagnostics and bio sensing, tissue Engineering.