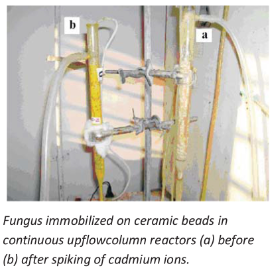 Indian Patent Applicaton No:
Overview:
An optimized "green" route to prepare auto capped CdS nanoparticles at room temperature using immobilized fungus Coriolus versicolor in continuous column mode with no external source of 'sulphur'.
Key Features:
An optimized "green" route to prepare auto capped cds nanoparticles with immobilized fungus Coriolus versicolor
At room temperature
In continuous column mode
No external source of 'sulphur
Dual purpose of both bioremediating cadmium as well as synthesizing stable Cds nanoparticles.
Particles are characterized by FTIR, XRD, SEM, TEM, AFM, and PL.
Applications:
• Solar cells, laser light-emitting diodes and photoelectric devices, in manufacturing of photoresistors (light dependent resistors] and many others.