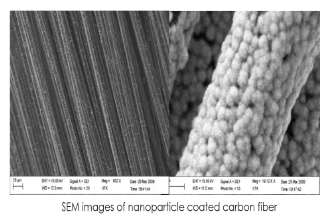 Indian Patent Applicaton No:
Inventors Name:
Mr. Prabhat K. Agnihotri
Mr. Sanjay Dasgupta
Overview:
Making of nano material coated carbon fibres. The coating of nanomaterial is done by cracking of metal oxide at specified temperature.
Key Features:
Need not add nano materials during the fabrication of nanocomposites in the polymer matrix which is more difficult to disperse in the matrix.
Uniform distribution of nanoparticles is obtained.
Uniform coating of nanoparticles is obtained.
Significant improvement in thermal stability of nanoparticles.
It's an insitu process.
Applications:
The applications are wide range i.e., aerospace, automobiles, heavy machinery, space materials, chemical, civil engineering industries, etc.