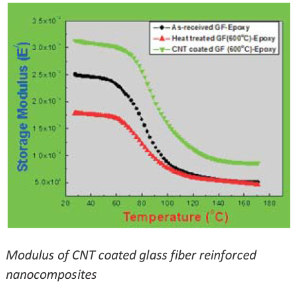 Indian Patent Applicaton No:
Overview:
Process of preparation carbon nanotube coated glass fib er (s)/fabric and its hybrid nanocomposites with improved thermomechanical and other properties.
Key Features:
For the synthesis of CNTs, simple thermal CVD is used.
CNTs on glass fiber comprise high aspect ratio.
Dip coating process is used.
Suited for high temperature as glass transition temperature for this invention is higher.
The process is carried out at comparatively low temperature resulting in lower processing cost.
Better thermal stability electrical conductivity, higher strength, improved storage modulus is achieved.
Applications:
Agriculture: silos and tanks.
Aircraft and aerospace: structural members.
Appliance & Business Equipments: covers, enclosures and fittings.
Corrosion resistant Equipments: linings, oil industry components.